Smoky guacamole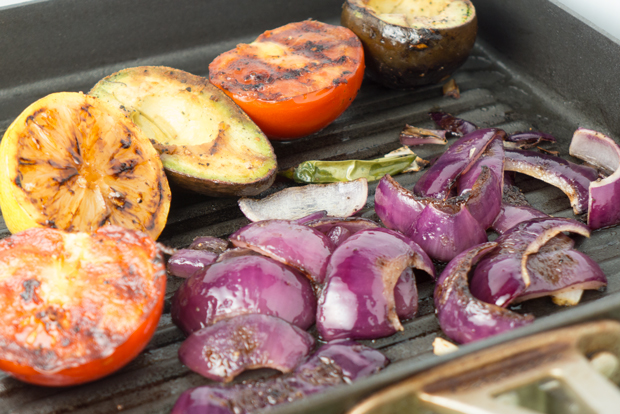 It started out as a stereotypically British summer: cold, windy and wet. (Luckily I was in the sweltering heat of Yokohama and Seoul to have missed the worst of it.) But since then it has turned sunny and warm, even on occasion "hot" by local standards (i.e., above 20°C). It undoubtedly won't last but while it does here's a recipe for guacamole to match the weather. "Guacamole? Really? You must be scraping the bottom of the barrel. Plus who needs a recipe for that!" you might rightly ask. But trust me. This one is different. Taken from Food & Wine Magazine, it involves the unusual step of grilling the key ingredients – avocado, tomatoes and red onions – to give the resulting guac a fantastic smoky flavor. Perfect for either current conditions or for those rainy weekends on the way when you're dreaming of drier and sunnier climes.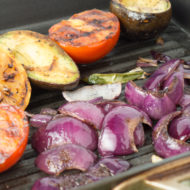 Yield: 2 servings
Prep Time: 5 min
Cook Time: 15 min
Total Time: 20 min
Ingredients:
2 avocados, halved and pitted
1 tomato, sliced in half
1 small red onion, peeled and cut into thick slices
1-2 green chiles (more to taste)
1 lime or lemon sliced in half
salt and freshly-ground black pepper
1 Tbsp chopped cilantro (coriander)
3 Tbsp canola (rapeseed) or other neutral oil
Tortilla chips to serve
Directions:
Place all the ingredients in a large bowl and toss with 2 Tbsp of the oil and a pinch each of salt and pepper.
Heat the remaining oil in grill pan or skillet over medium-high and place the avocados, tomatoes, onions and limes/lemons, cut-side down, along with the green chiles. Cook, using tongs to turn over and check every once in a while, until they begin to char. This should take between 5-10 minutes, depending on the veg. Remove each veg from the pan and set aside to cool as it is done.
Scoop the flesh out from the avocado and place in a small bowl. Seed the tomatoes and chop along with the onions and chiles and add to the bowl. Squeeze the lime/lemon juice over and stir in the cilantro. Season with salt and pepper and serve with tortilla chips.
Chef Victor Albisu in Food & Wine magazine (link)