Taiwanese pepper shrimp (胡椒蝦)
The other day my friend Pei-San came over for dinner. She's originally from Taiwan, but lives in Japan and (temporarily) New York. I met her some months ago at a Japanese language meetup and since then she's been helping me practice that language. That's how good she is at it! But I digress. The reason I mention her is that she brought over a Taiwanese dish that was so addictively good I simply had to add it to my repertoire. I've had Taiwanese food before but not this particular dish. She didn't know what it was called in English, but Googling the Chinese characters, 胡椒蝦 (hu jiao xia), which literally mean "pepper shrimp", revealed that this is a dish better known (at least in the US) as "salt and pepper shrimp".
The trick to making this dish is to very quickly deep fry the shrimp with the shells on. Mix in some aromatics and a shot of black pepper and you're done. Granted, I'm not a big fan of deep frying. Its messy and the oil is a pain to get rid of. (The Japanese have a great adjective for such tedious tasks: mendokusai (面倒くさい), literally "troublesome-smelly"!) As a compromise, I use the bare minimum amount of oil necessary to get the job done. But the result is well worth the (small) effort: shrimp that's crunchy on the outside and tender on the inside!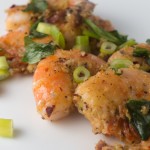 Taiwanese pepper shrimp (胡椒蝦)
Yield: 2 servings
Prep Time: 10 minutes
Cook Time: 10 minutes
Total Time: 20 minutes
Ingredients:
⅓ pound shrimp, shell-on
1 tbsp cooking sake
3-4 tbsp all-purpose flour
1″ piece ginger
2 cloves garlic
1 small dried red chile pepper, seeded
2 scallions
¼ cup + 1 tbsp canola or grapeseed oil
10-15 leaves basil, roughly torn
salt
ground black pepper
Optional steamed, short grain white rice to serve
Directions:
Wash and pat dry the shrimp. Season well with salt and toss with the sake. Set aside while you prepare the rest of the ingredients.
Mince together the garlic, ginger, dried red pepper, and 1 scallion. Dice the other scallion separately.
Place the flour in a small plate or bowl and dip each shrimp so that both sides are lightly coated with the flour. Shake off any excess flour before laying the shrimp out on a plate.
Heat ¼ cup of the oil in a small wok over high heat until very hot. The oil should be about a ¼" deep. Quickly, but carefully, lower the shrimp into the wok. Fry for about 10 seconds before flipping over with chopsticks or a slotted spoon and fry another 10 seconds. Turn off the heat and using a slotted spoon transfer the shrimp to a paper towel-lined plate.
Discard the oil and wipe the wok clean with a paper towel.
Heat the remaining 1 tbsp oil over high and fry the minced mixture until fragrant, about 30 seconds. Turn off the heat and add the shrimp and several turns of black pepper. Stir until well mixed. Taste for salt.
Garnish with the basil and diced scallions and serve hot (optionally along with the rice).