Vietnamese grilled meatballs with rice vermicelli (bún thịt nướng)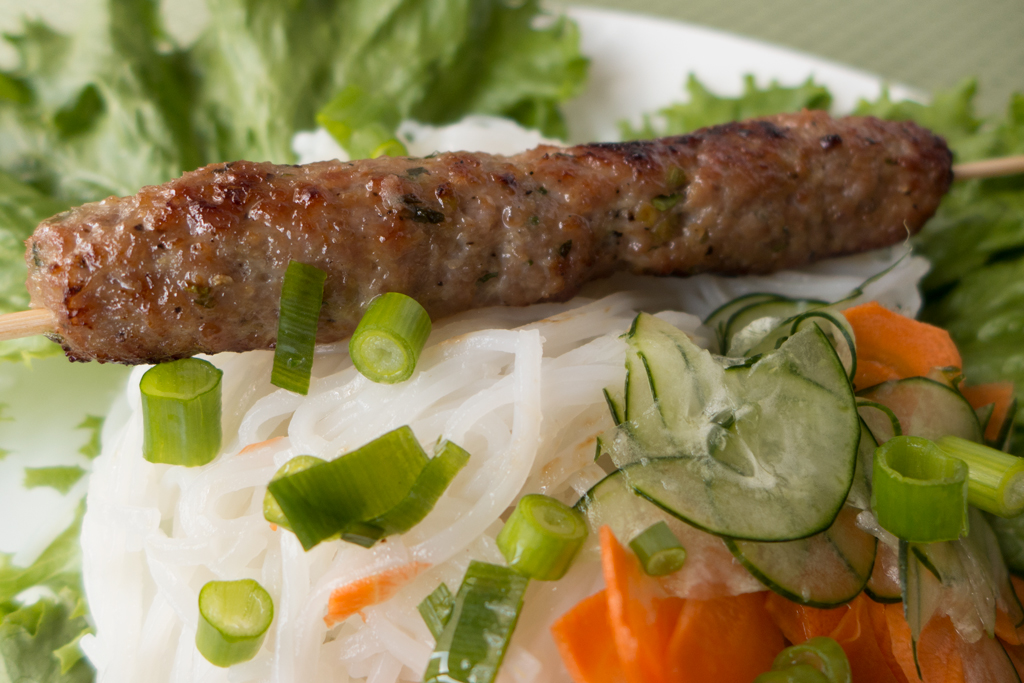 It seems to be some sort of unwritten culinary rule that the tastier and more interesting the ingredient, the stinkier it is. Anchovies, kimchi, and asafoetida – all foods we adore on this site – come to mind. But surely the prize for tastiest-ingredient-with-funkiest-smell must go to fish sauce, a staple of southeast Asian cuisine, notably Vietnamese and Thai. Certainly, it is an acquired taste: you are either head over heels in love with it or you hate it.
I am fortunate to be one of those who likes this condiment made of salted and fermented fish. In limited quantities of course, because as you probably know, fish sauce is extremely salty and a little goes a long way. So beware. It is common to balance this saltiness with sugar. A lot of it. But the resulting flavor is uniquely funky (in a good way!).
I use fish sauce primarily when making Vietnamese dishes such as phở and bánh mì sandwiches. But it also goes well in vinaigrettes as I'll report in a future post. In today's recipe for bún thịt nướng (literally, "noodles with grilled meat") fish sauce is used to both marinate meat and make nước chấm, a classic dipping sauce. I used ground pork, but pork tenderloin is an especially flavorful alternative.
Vietnamese grilled meatballs with rice vermicelli (bún thịt nướng)
Prep time:
Cook time:
Total time:
Ingredients
Meatballs:
½ lb ground pork
Optional, 3 wooden or metal skewers
Marinade:
1 tbsp fish sauce
1 tsp honey
1 tsp sugar
2 cloves garlic, minced
1 scallion, minced
Pinch of ground black pepper
Nước chấm dipping sauce:
½ cup hot water
2 tbsp fish sauce
1 tbsp sugar
1 tbsp lime juice
1 tbsp shredded carrot
10 oz dried rice vermicelli
To serve:
4-5 leaves of romaine lettuce
¼ cucumber, thinly sliced crosswise
¼ carrot, peeled and cut crosswise into 1" pieces and then thinly sliced
1 scallion, diced
Instructions
If using wooden skewers, soak in cold water for a few hours.
In a bowl, mix all the marinade ingredients and adjust flavors as you like (it should be a bit sweet).
Add the meat and mix well. Cover with wrap and refrigerate for a few hours. Remove from fridge 30 minutes before cooking.
In the mean time mix together all the nước chấm dipping sauce ingredients in a small bowl. Refrigerate.
Cook the rice noodles according to package instructions and set aside.
Shape the meat into sausages and (optionally) skewer. Place a broiler pan over a foil-lined baking pan to catch drippings. Lightly grease with canola oil and spread the skewers on top. Turn on broiler and cook for 3-4 minutes until nicely charred. Turn over and grill for a few minutes longer until done.
To serve, spread out the lettuce on a large plate. Heap on the noodles followed by the cucumber, carrots, and meat skewers. Pour some dipping sauce on top. Garnish with scallions and serve with extra dipping sauce on the side.