Zhong Jiaozi (Sichuan-style dumplings)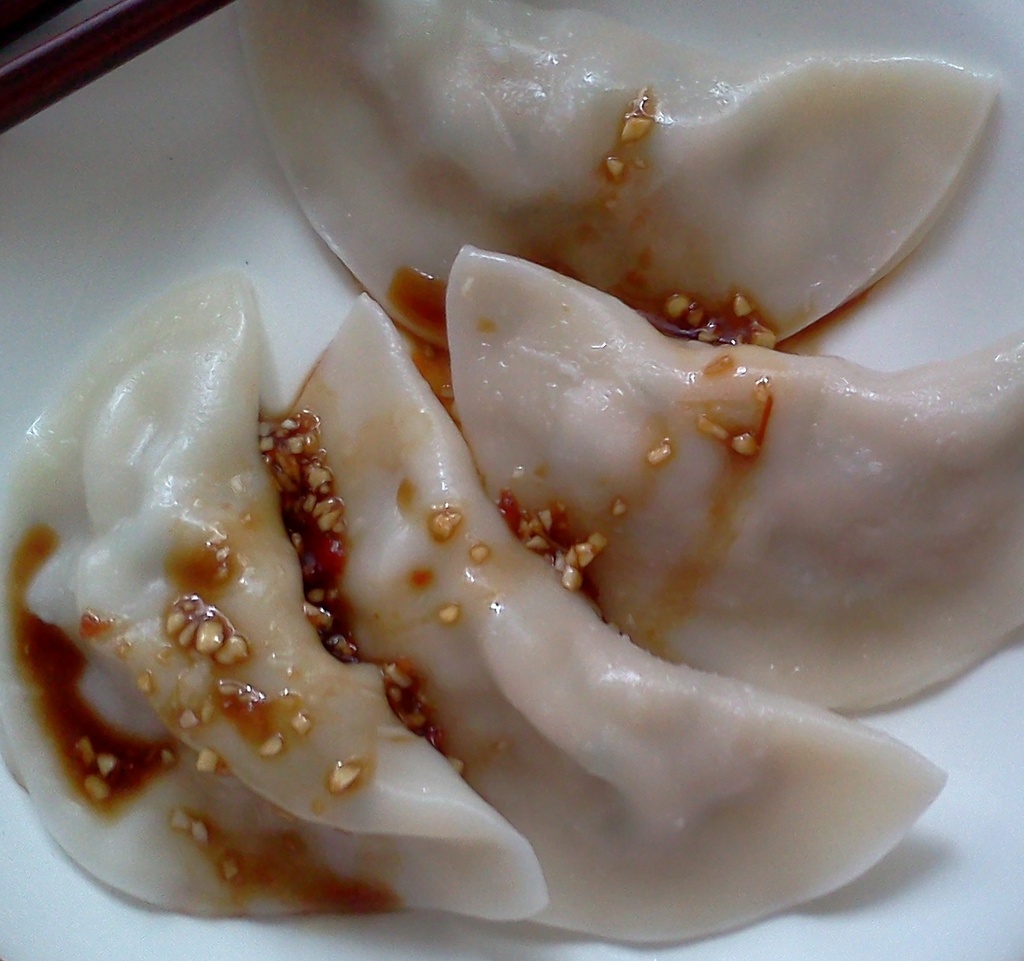 One of the great things about visiting Japan is the variety of food to be had, including a plethora of "foreign" cuisines. Of course, with only around 2 million foreigners in a population of 130 million, "foreign" food here is nothing like, say, in the US. The clientele is exclusively Japanese (unless one is in a gaijin hotspot like Roppongi Hills in central Tokyo you can go days without spotting one!), so there is little by way of authentic ethnic cuisine. To be sure, food everywhere adapts to suit local tastes but, in my experience at least, nothing like in Japan (a phenomenon called nihonka (日本化), ka=change). Here, Kimchi is sweet (as is Indian food), Chinese bland, and Italian, well the menu below (from a typical "Italian" restaurant I recently visited) gives you an idea. I can't read everything, but root vegetables such as daikon (大根) and renkon (蓮根), local varieties of mushrooms, and seafood not typically associated with Italian food feature prominently!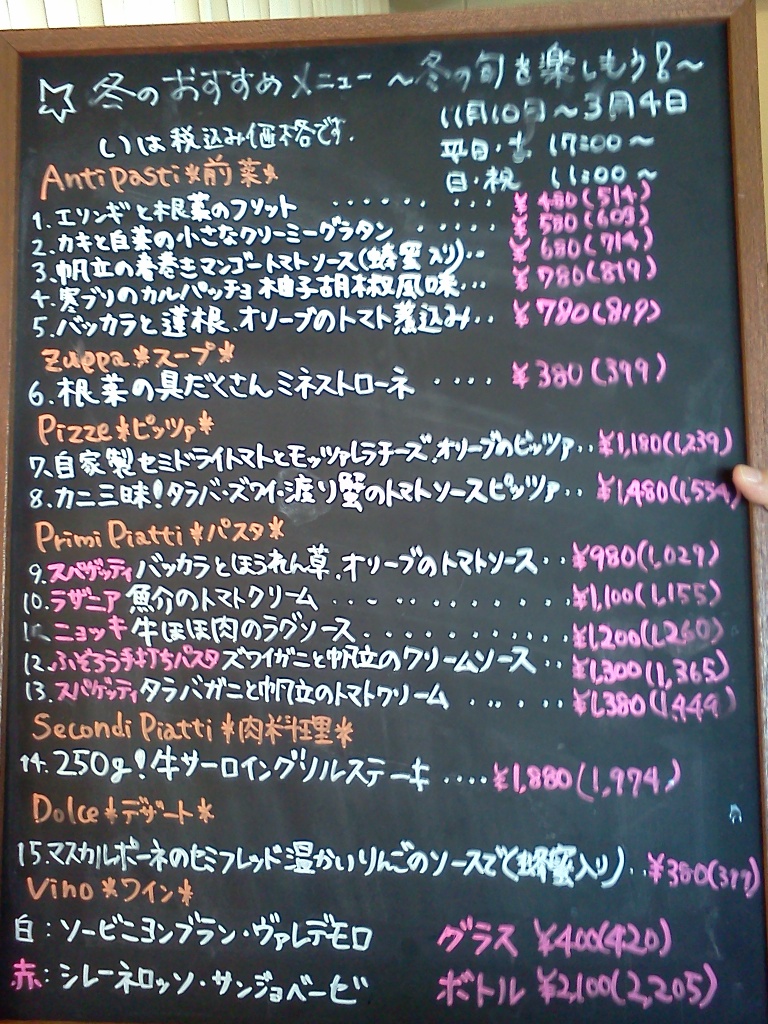 Not that its bad. It can often be quite good (mentai pasta is a stroke of genius and one of my favorite "Italian" dishes), and people here certainly like it the way it is. But, even Tokyo, for all its unrivaled number of Michelin stars, is a far cry from the ethnic (culinary and otherwise) melting pot that is New York and more generally the US. So, although many will disagree with me on this, when in Japan, stick to washoku. Expect to line up, though, as at this hole-in-the-wall ramen-ya in the basement of Tokyo station which is justly famous for its tsukemen (except for some topping variations, its the only thing on the menu).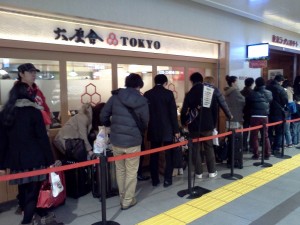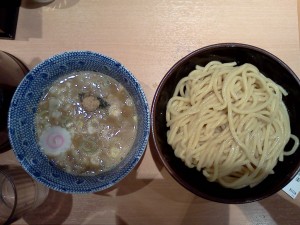 All this came to me when I had lunch recently at a Sichuan ("Shisen" in Japanese) restaurant. The food was quite decent but uniformly bland (Japan in a nutshell?) with no hint of the mala one expects from Sichuanese food. Its the way the locals like it, but it made me not a little bit homesick. Or, rather, "kitchensick" because if there's one thing I miss when I travel its my kitchen! And it particularly reminded me of a dish I made not so long ago: zhong jiaozi, a speciality of Chengdu in Sichuan province. Jiaozi (饺子) is (I think) the generic Chinese word for (typically crescent-shaped) dumplings, what the Japanese call gyōza (餃子). (The characters obviously give the game away – apart from the confusing matter of simplified versus traditional ones – but I find the similarity between many Chinese and Japanese food words an endless source of fascination. For example, boiled dumplings are called shuijiao – literally "water dumpling" – in Chinese and suigyōza in Japanese. Char sui, Cantonese barbecued pork, becomes chāshū in Japan (where it is a popular ramen topping). And so forth.)
But back to those dumplings, adapted from a recipe on "Viet World Kitchen", Andrea Nguyen's fantastic blog on Vietnamese and other (east) Asian cuisines. Dumplings require wrappers, and I'll assume you already have them on hand. Its easy enough to make them (2 cups AP flour plus 3/4 cup hot water, according to Ms. Nguyen's excellent "Asian Dumpling Cookbook"), but store-bought ones are just fine (as someone said, "perfect is the enemy of the good" or in this context the difference between food on the table and not!). Should you aspire to achieve dumpling folding perfection, Ms. Nguyen has helpfully posted this video. Note that the traditional recipe uses "ginger water" (basically water in which ginger has been soaked for a while). Here, I amp things up by using the juice from the ginger, a trick I learned from my friend Yukiko-san who makes the most delectable gyōza.
Zhong Jiaozi (Sichuan-style dumplings)
Prep time:
Cook time:
Total time:
Ingredients
For the filling (makes about 20)
1" piece ginger, peeled
2 tbsp water
1 egg white, beaten
1 tsp soy sauce
1 tsp Shaoxing rice wine
¼ lb ground pork
3 tbsp minced scallions
¼ tsp salt
Ground black pepper
For the dipping sauce
2 tbsp soy sauce
1 tsp sugar
1 tsp sesame oil
1 tbsp chile oil
1 clove garlic, finely minced
Instructions
Mince the ginger and place in a cheese cloth along with all the juice. Squeeze out all the juice out of the ginger into a bowl. Stir in the soy sauce, water, rice wine, egg, salt, and a large pinch of pepper.
Place the pork and scallions in a bowl and break up using a fork. Then stir in the above seasonings and mix well using the fork. You should end up with a soft and somewhat sticky mixture. Add more water if its too dry. Cover and set aside for at least 30 minutes to allow the flavors to come together.
In the mean time, make the dipping sauce by mixing together all the ingredients. Adjust flavors if needed.
Assemble the dumplings, using about 1 tbsp of filling per dumpling. See this video for help on how to fold the dumplings. Cover the finished dumplings with a towel as you proceed.
Bring a large pot of water to a boil. Cook the dumplings in batches until they float up to the surface (about 5 minutes). Remove with a slotted spoon.
Serve hot with the dipping sauce.