Zucchini, dark chocolate and olive oil cake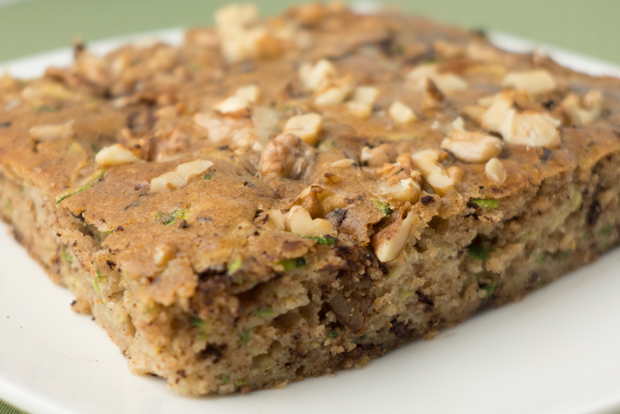 When you cook 7 days a week, having a regular rotation of dishes you can make on autopilot is key. But it is just as important to make a new dish every few days to keep things fresh and interesting. Luckily, I probably read more about food than any other topic and whenever I come across an interesting recipe, technique or ingredient I add it to an ever-growing wish-list of dishes to make. While it may take me a few months to get around to making it, at least I'm never short of ideas. Every once in a while, though, I come across something that I want to make right away. Like today's recipe for zucchini (courgette) cake. Now cakes are not especially high on my list of culinary priorities. But the idea of zucchini in a cake was so intriguing that I simply had to try it. And so brilliantly did it turn out that I made it twice that week!
The original recipe by Melissa Clark in the New York Times calls this a 'bread'. But I think 'cake' is more accurate, especially after the small changes I made to adapt it to my tastes. I reduced the amount of sugar significantly but added back some of the sweetness with dark chocolate. I also replaced some of the olive oil with a bit more yogurt, which did not seem to hurt it much. I suggest playing around with the proportions. This cake is so forgiving that you'll have to work hard to mess it up!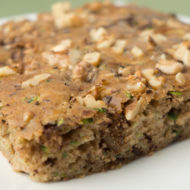 Zucchini, dark chocolate and olive oil cake
Yield: 8 servings
Prep Time: 10 min
Cook Time: 50 min
Total Time: 1 hour
Ingredients:
Wet mix:
1 medium-sized zucchini (courgette), grated on the biggest holes of a box grater (about 1 packed cup/200 g)
50 g brown sugar
60 g dark chocolate, coarsely chopped
60 ml olive oil
100 ml plain Greek yogurt
2 eggs, beaten
1 tsp vanilla extract
Dry mix:
1½ cups (190 g) all purpose (plain) flour or a mixture of plain and whole grain flours
½ tsp sea salt
½ tsp baking soda
½ tsp baking powder
1½ tsp ground cinnamon
¼ tsp ground nutmeg
grated zest of 1 lemon
Other:
½ cup (50 g) chopped walnuts
Butter to oil the pan
Directions:
Preheat the oven to 350°F/175°C.
In a bowl, bring together the wet mix ingredients with a wooden spoon or spatula. In a second bowl repeat with the dry mix ingredients.
Fold the dry mix into the wet and pour the batter into a buttered loaf tin or baking pan. Sprinkle the walnuts on top and gently push in with your finger.
Bake in the oven until a sharp paring knife inserted into the cake comes out clean, about 45-50 minutes.
Cool on a rack before serving.
Adapted from a recipe by Melissa Clark in the New York Times (link)