Cantonese-style roast pork buns (char siu gua bāo)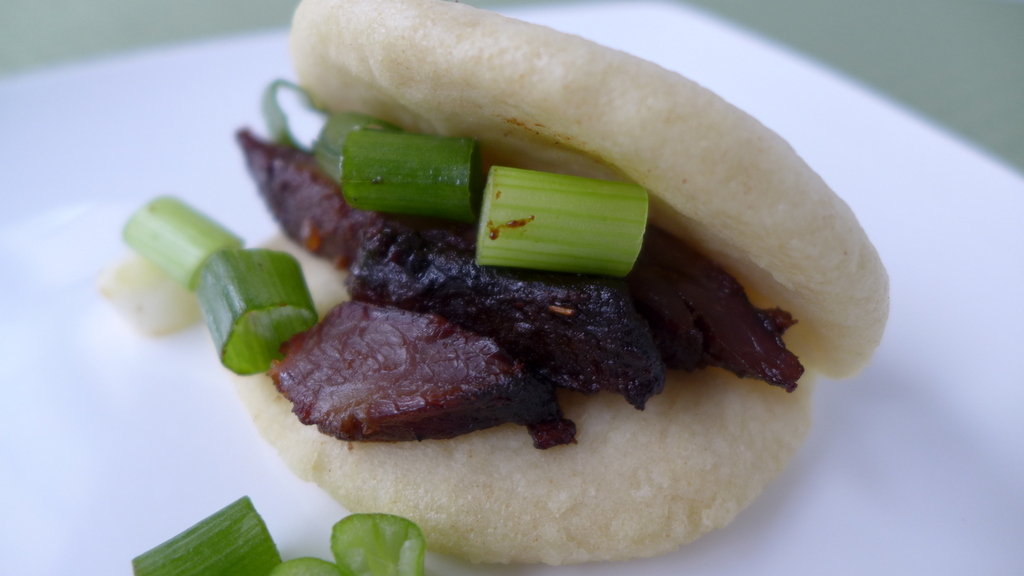 The last few weeks have been rather busy at work. But hopefully today's recipe for pork buns will in part make up for my tardiness in posting. At this point I should note that these are nothing like the pork buns at Momofuku. Unlike Momofuku's more famous ones, where the filling is made of pork belly and copious amounts of salt and sugar (sorry if I just ruined it for you), these use roasted pork shoulder (admittedly not the leanest cut either), flavored Cantonese-style with dark soy sauce, hoisin, garlic, and Chinese five-spice powder.
There are two components to this dish. Both are independent of each other, and while neither is especially complicated, you can make them on different days to reduce the work (and stress). One is the sweet and garlicky roasted meat known as char siu, a classic of Cantonese cuisine (known as chāshāo in Mandarin and chāshū in Japanese, although the latter is often braised.) The other is the steamed bun or bāo. After consulting some Chinese friends, it would seem that bāo-包-is a generic term for any kind of wrapper. So this is also a char siu bāo. Gua is a bit more complicated. According to my colleague Qiang Yang, this type of sandwich bread is originally from Fujian province where it is called Ge Bao (割包). In Taiwan, the same bread is called gua bao, but is written as 刈包. (I don't speak any Chinese, but even from my spotty knowledge of Japanese kanji the meaning is pretty clear: 割 means to cut or separate and 刈 means to cut. However, as you'll see, there is no cutting or slicing involved in making this bread.) That etymological digression aside, both components are taken from a book I've mentioned previously, the excellent Asian Dumplings by Andrea Nguyen. Few cookbooks I know of combine such vast scope with minute detail as successfully as this one. One final note. The buns go well with lots of other fillings – both sweet (I'm thinking anko here) and savory – so feel free to experiment.
Ingredient note: This recipe requires Chinese five-spice powder, something I did not have on hand as I'd never had occasion to use it before. You can buy it at any Asian market, but this is potent stuff that you rarely need more than a teaspoon of at a time. So rather than buying a jar that you have no hope of ever finishing, I suggest making your own. Its easy enough if you have the ingredients on hand, although – confusingly – the proportions are not exactly set in stone as a quick search on the Internet revealed. So I sent out an SOS to Rachel over at Food Refuge, who generously responded with the recipe given below (which I've slightly tweaked).
Cantonese-style roast pork buns (char siu bāo)
Prep time:
Cook time:
Total time:
Ingredients
Chinese five-spice powder
1 tsp Sichuan peppercorns, toasted
3 whole star anise
1½ tsp fennel seeds
½ tsp whole cloves
2 cinnamon sticks, about 2 inches long each
Char siu
2 lbs trimmed, boneless pork shoulder (butt)
3 cloves garlic, minced
3 tbsp sugar
¾ tsp Chinese five-spice powder
4 tbsp hoisin sauce
2 tbsp honey
2½ tbsp Shaoxing rice wine
2 tbsp tbsp regular soy sauce
1½ tbsp dark soy sauce
1 tbsp sesame oil
Steamed buns
1½ tsp instant dry yeast
¾ cup lukewarm water
2 tbsp canola oil
2 tbsp sugar
2 tsp baking powder
2½ cups all-purpose flour
Sandwich
Instructions
Chinese five-spice powder
Grind all the ingredients together to a fine powder in a spice grinder or mortar and pestle.
Char siu
Rinse the pork and pat dry with a paper towel. Cut into 1½"-thick slices and place in a large bowl.
Mix the remaining (marinade) ingredients together in a small bowl. Adjust for sweetness by adding more hoisin or soy sauce as you like. (Char siu is generally a bit sweet.) Pour ⅔ of the marinade over the pork, setting the rest aside for basting later. Stir well so that the meat is well coated. Cover with plastic wrap and refrigerate overnight, stirring it a few times if you can.
Bring the pork and reserved marinade back to room temperature (about an hour) before roasting.
Preheat over to 475°F.
Lay out the marinated pork - spaced a few inches apart - on a roasting rack placed over a foil-lined baking pan. Roast the pork in the upper part of the oven for about 30-40 minutes. Baste the meat every 10 minutes or so by using tongs to dip it in the reserved marinade and placing it back on the rack, turned over.
When the meat is done (it should be browned and slightly charred), remove from oven and let rest for 10-20 minutes.
Refrigerate or wrap in plastic wrap and freeze.
Steamed buns
Put the yeast in a small bowl and add the water. After about a minute, whisk in the oil and set aside.
Mix the flour, sugar, and baking powder in a bowl and pour in the yeast water. Stir with a wooden spoon until all the flour has been mixed in to form a ragged lump. Add more lukewarm water by the teaspoon if needed.
Use your hands to form the dough into a ball and transfer to a clean counter top. Knead the dough for about 5 minutes or so until it is soft and smooth. The dough should be elastic (it should spring back slowly when poked with a finger) and not sticky.
Transfer the dough to a lightly-oiled bowl, cover with plastic wrap and place in a warm area (e.g., in the oven or microwave with light on). Allow the dough to rise, about 45 minutes.
Meanwhile, cut parchment paper into 24, 3" squares and lay out on a baking sheet or other work area.
Once the dough has roughly doubled in size, move it to a lightly-floured surface and shape into a thick disk. Cut in half and put one piece back into the bowl and cover with wrap.
Roll the other half into a 12" log and cut into 12 pieces. Cover with a kitchen towel while you work on each piece. Roll each piece into a ball and flatten into a disk. Then, using a rolling pin, roll into a circle of 3-3½" diameter (about a ¼" thick.) Place on a square of the parchment paper and cover with a towel. Repeat with the other pieces and remaining half disk.
Lightly brush one side of each circle with canola oil and fold over to make a semicircle. Cover and and allow to rise again for another 30 minutes.
In the mean time, get the steamer ready. When the final rise is over, place the parchment squares directly onto the steamer tray. Don't overcrowd. Steam for 7-8 minutes until the buns are puffed up.
At this point you can wrap the buns in their parchment squares and freeze them if you like. To reheat, just steam them for a few minutes.
Assembling the sandwich
To assemble, thinly slice the roasted pork and stuff the buns. Garnish with scallions and serve.