Japanese-style chicken wings glazed with miso and shio kōji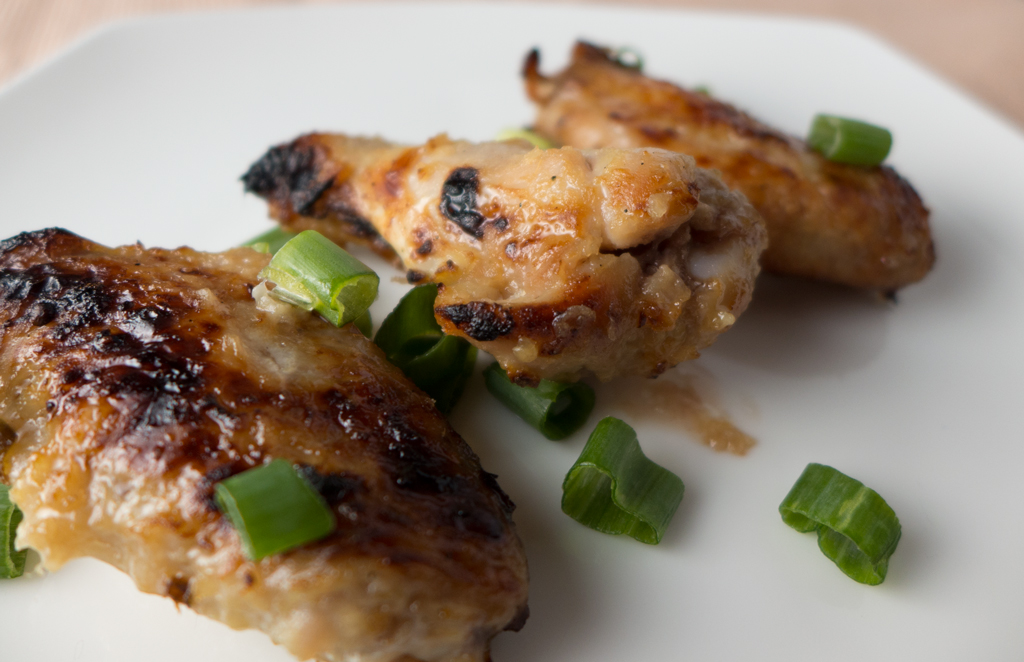 Nowadays it seems that food trends have become ever more transitory. Before you can say "yuzu cocktail" a new fad comes along. Here in New York in recent years, we've gone through kale, pork belly, pomegranate, konbu, nose-to-tail eating, … You get the idea. Japan, being a famously trendy place, is no exception as I discovered during my recent trip there. No, I'm not talking about ramen which is always in vogue. This time it is something called shio kōji (塩麹).
Shio (塩) is salt. kōji (麹) is the common name for A. oryzae, a mold that is used in the fermentation of soybeans and rice to produce soy sauce, miso, sake, rice vinegars, and so forth. You can see why it is sometimes called Japan's national fungus (although like most things Japanese it is a hand-me-down from China where the basic technology for fermenting soy-based foods was first developed). kōji itself is rice inoculated with spores of this fungus. As explained here, there is an enzyme in kōji that breaks down proteins to create glutamic acid, which imparts that unique taste known as 'umami'. (This is the same chemical that gives MSG – monosodium glutamate – its umami flavor.)
Shio kōji is kōji mixed with salt and water and it seems to have taken Japan by storm. (You know something is afoot when Mos Burger, Japan's equivalent of McDonald's, starts selling shio kōji burgers!) Certainly, I don't remember noticing it on supermarket shelves on my previous visit just a year ago. You can use it in everything from salad dressings to marinades for fish and meats. The latter is how I use it in today's recipe: chicken wings marinated with shiro (white) miso and shio kōji and then broiled in the oven (or grilled if you don't live in a tiny Manhattan apartment!). Apart from the time it takes to marinate (I recommend several hours at least), the prep and cooking takes all of 10 minutes.
Ingredient note: You can buy shio kōji (see picture below) at Japanese grocery stores (for example, Sunrise Mart if you're in New York). Failing that, you can buy the more readily available kōji (look for it near the miso) and make your own following the instructions here. And if that's still too much trouble, skip the shio kōji and use a bit more miso and soy sauce. The end result will have plenty of umami!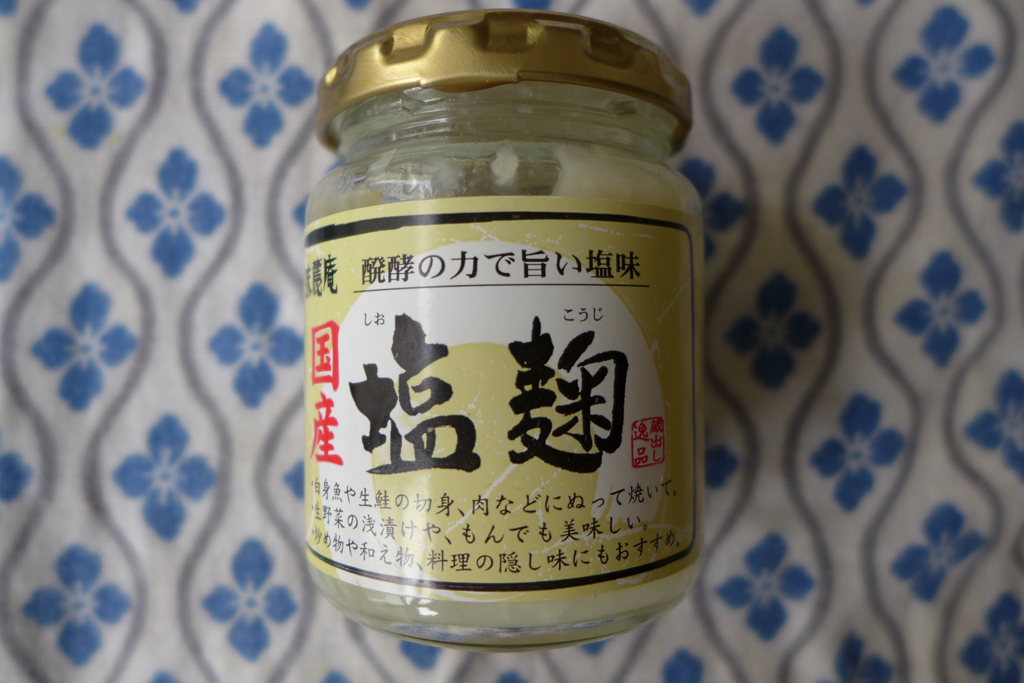 Chicken wings glazed with miso and shio kōji
Prep time:
Cook time:
Total time:
Ingredients
Marinade:
2 tbsp shiro (white) miso
1 tbsp mirin
1 tbsp shio kōji
1 tsp soy sauce
Pinch of ground black pepper
Instructions
Mix all the marinade ingredients in a small bowl.
Rinse and pat dry with a paper towel the chicken wings. With a sharp paring knife, make a few cuts across the meat and place in a large bowl. Pour the marinade over the wings and stir to coat evenly. Cover with plastic wrap and refrigerate 7-8 hours or overnight, turning over the wings once if you can. Remove from fridge 30 minutes before cooking.
Place a broiler pan over a foil-lined baking pan to catch drippings. Grease lightly with canola oil and spread the wings on top. Turn on broiler and cook with the wings 3-4 inches away from the flames. Broil about 4-5 minutes or until the meat turns golden brown. Then turn over and cook another few minutes until done.
Garnish with scallions and serve hot. You don't really need dipping sauce with these wings, but if you'd like to spice things up (or do your bit for Japan-Korea relations) try them with gochujang.