Fregula with roasted onions and cherry tomatoes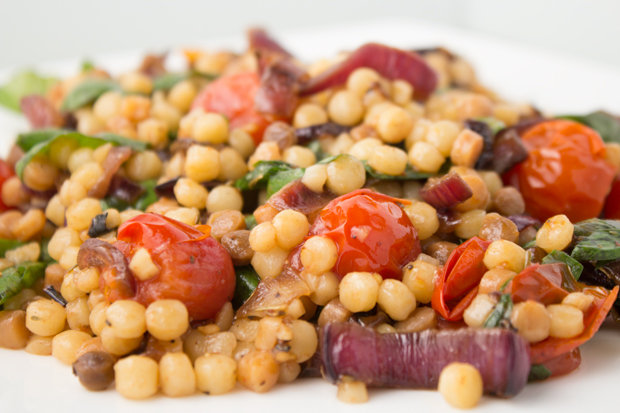 I was oddly pleased recently when someone complained that my pasta was inedibly hard. I thought: "I've finally leant what 'al dente' really means, and to make pasta that would not make my Italian friends cringe!" Italians, as you know, take their pasta quite seriously. And no wonder. When it comes to comfort food there's nothing quite like it (or dal, I might add). And while it takes a certain amount of courage to stop when the pasta is still obviously uncooked, achieving that delicate point between undercooked and soggy is well worth striving for. What is also worth the effort is seeking out fregula, a bead-shaped pasta from Sardinia that has shot up my list of favorite types of pasta.
Fregula (also spelled fregola), if you've not had it before, will remind you of "giant" or Israeli couscous. And in fact both are made from semolina by a very similar process. Indeed, according to this Wikipedia entry, fregula was brought over from North Africa by Ligurian immigrants. You cook it like any other pasta: in a large pot of well-salted, boiling water. Drain. Do NOT rinse. It is easy to overcook so keep a watchful eye after the first 5 minutes or so. Fregula is fantastic in soups but here, in this recipe from Food & Wine magazine, it is married with cherry tomatoes and red onions roasted in balsamic vinegar to make perhaps the tastiest pasta salad you've ever had!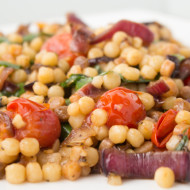 Fregula with roasted onions and cherry tomatoes
Yield: 4 servings
Prep Time: 10 minutes
Cook Time: 1 hour
Total Time: 1 hour 10 min
Ingredients:
150 g (around 20) cherry tomatoes
1½ tsp chopped rosemary (fresh or dry)
1½ tsp chopped thyme (fresh or dry)
5 Tbsp balsamic vinegar
2 red onions (200 g), cut into thick slices
250 g (~1½ cup) fregula
salt
freshly ground black pepper
handful of basil leaves, roughly torn
Directions:
Preheat oven to 180°C.
In a baking pan toss tomatoes with 2 Tbsp olive oil, rosemary, thyme, salt and pepper. Roast in oven for 40 minutes until tomatoes are bursting. Transfer to a large bowl.
While tomatoes are cooking, heat a grill pan or skillet over medium-high. Toss onions with 1 Tbsp olive oil, salt and pepper and grill until they begin to char. Transfer to the same baking pan in which you roasted the tomatoes. Mix with 1 Tbsp olive oil and 2 Tbsp balsamic vinegar. Turn up heat to 200°C and roast for 15 mins.
In the meantime, bring a large pot of well salted water to a boil. Add the fregula and cook until al dente. Drain and add to the tomatoes.
Once the onions are done, add them to the tomatoes and fregula along with the basil, 1 Tbsp olive oil and 2 Tbsp balsamic vinegar. Make sure to scrape and add all the charred bits and juices from the baking pan. Mix gently with a wooden spoon. Taste for salt and pepper and serve warm.
Chef Jeff Banker in Food & Wine magazine (link)