Green mung dal with yogurt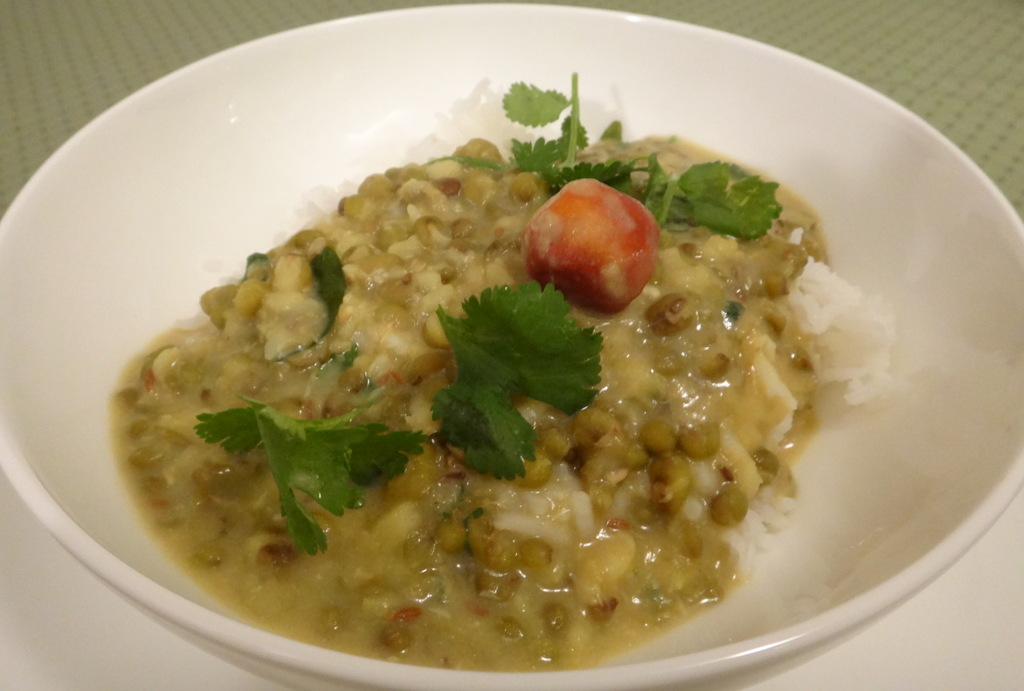 Several weeks ago Mark Bittman wrote a column about dal in the New York Times. For someone from India that's like writing about salt: "Dal!? Really? Dal is just about the most ordinary thing in the world, right? Still, I was a bit miffed that he'd gotten to it first. I've been meaning to post various dal recipes because, commonplace as it is, an Indian meal, at least in our house, is simply incomplete – even unthinkable – without it. More importantly, there are a zillion kinds of dal, some reaching heights that would put the most flavorful ramen broth (to give a random but trendy example) to shame.
Its surprising, then, that dal – and by that I specifically mean the sort made at home rather than dal makhani and its ilk served at Indian restaurants throughout the world – is largely unknown, even in culinary circles. (After ramen and kimchi and anchovies, could dal be 'the next big thing'? You read it here first!) Still, I was pleased as well that Mr. Bittman chose to write about dal, both because its glories need more advertising and because he missed (in my opinion) all the good ones!
Actually, perhaps its not so surprising after all that dal is largely unknown outside India. In India, language, geography, and food are deeply intertwined. There are over 20 official major languages (and hundreds of dialects: according to this article in The Economist the chance that two people meeting at random share the same mother tongue is 5%!) and at least as many distinct styles of cooking (each as different from the other as, say, Italian is from French). Most Indian restaurants abroad serve north Indian, specifically Mughlai, cuisine (more on that in a future post). This is very different from I grew up eating at home, which is Gujarati food, named after the state of Gujarat and the language. (Like many Gujarati's I am from Mumbai. But even if your family has lived outside their 'native' state – whatever that means – for generations, the language you speak and the food you cook at home remains unchanged.) Gujarati food is exclusively vegetarian and, if you haven't had it, has a rather unique taste, famously combining both sweet and savory elements.
But enough of that. Here's a super simple recipe for dal that is typical of what we eat at home. Even accounting for my complete lack of photography skills, it isn't much to look at. But it is deeply flavorful. It is made out of green mung beans which are widely available in supermarkets and health stores, and certainly in any Indian grocery store. (For those in the know, its not the classic Gujarati 'sweet' toor dal, which I'll cover one of these days.) It follows a fairly standard recipe: you cook the dal, often with nothing more than salt, and then add flavor through the hot tempering oil you pour on top (known as tadka or waghar). What makes this dal special is the addition of yogurt that imparts a slightly sour/tangy flavor.
Ingredient notes: A lot of dal recipes call for dried red chillies, specifically the small, spherical ones (like in the image above) called boriya marcha (marcha = chillies). You can find these at any Indian grocery stores. But you can probably make do with any regular dried red chilli. Make sure the chillies aren't broken. The point is to add flavor rather than heat. This recipe, and many others I'll be writing about, also calls for curry leaves. Unless, like me, you're lucky enough to have a curry leaf plant on your windowsill this will require a trip to an Indian grocery store (look for them in the refrigerated or frozen food section). I know some Indian cookbooks suggest substituting curry leaves with bay leaves, but to me that's a big no no. The two are nothing alike.
Mung dal with yogurt
Prep time:
Cook time:
Total time:
Ingredients
1 cup green mung beans
¼ tsp turmeric powder
1 tsp salt
½ cup plain yogurt, beaten
1" piece ginger, minced
2 small Thai green chillies, minced
½ tsp asafoetida powder (hing)
2 tbsp vegetable oil (like canola)
2 tsp cumin seeds
4-5 cloves
3 dried red chillies (preferably boriya marcha: see ingredient note above)
7-8 curry leaves
Cilantro for garnish
Basmati rice for serving
Instructions
Wash the mung dal and place in a pot with 3½ cups cold water, salt, and turmeric, and heat over medium. Bring to a boil. Lower heat, cover, and simmer until the dal is cooked (tender but not overly soft). Add more water if the dal is too thick.
Stir in the yogurt. Using an immersion blender or the back of a wooden spoon coarsely blend the dal.
Add the minced ginger, minced chillies, and asafoetida.
To make the tadka or waghar, heat the oil in a small frying pan over medium high until quite hot. Add the cumin seeds, cloves, curry leaves, and dried chillies. Fry for 30 sec, shaking the pan a few times to mix, and then pour over the dal. (Ladle some dal into the pan and pour back into the pot to make sure you get all the good stuff!)
Bring the dal back to a boil. Taste for salt.
Garnish with chopped cilantro and serve over steamed basmati rice.