Grilled asparagus with salsa Romesco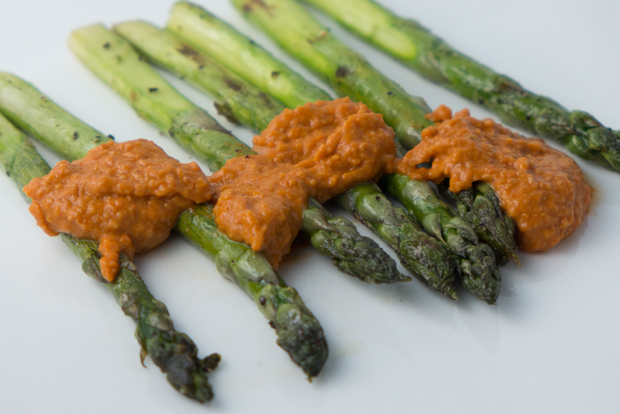 I'll be honest: the focus of this post is the Romesco sauce. Sure, asparagus, until recently in season, tastes lovely with it. But, really, anything you can dip in the sauce works (carrot sticks, celery, chips, fingers … – are all good!). Or try it with grilled fish. Granted, this isn't the simplest dip in the world. But it has very quickly become my favorite and the (minor) extra effort of roasting the ingredients is absolutely worth it. The recipe is, with very minor adjustments to the proportion of ingredients, from My Basque Cuisine, a fantastic cookbook by Ash Mair that covers all the Spanish classics in an accessible manner.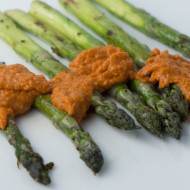 Grilled asparagus with salsa Romesco
Yield: 2 servings
Prep Time: 20 minutes
Cook Time: 20 minutes
Total Time: 40 minutes
Ingredients:
Asparagus
1/2 lb asparagus, trimmed
2 tsp olive oil
large pinch of coarse sea salt
freshly-ground black pepper
Salsa Romesco
1 red bell pepper
1 plum tomato
1 head garlic, cloves separated but unpeeled
1/4 cup coarse bread crumbs (or an equivalent amount of crusty bread, crust removed)
1/3 cup sliced/flaked blanched almonds
5 Tbsp olive oil
3 Tbsp sherry vinegar plus more to taste
1 tsp sweet (dulce) pimenton (smoked paprika)
1 tsp hot (picante) pimenton
salt to taste
Directions:
Salsa Romesco
Preheat oven to 375°F.
Place the tomato and garlic cloves in a small roasting pan and drizzle with 1 Tbsp of the oil. Place in oven and roast for 15 minutes. Remove the garlic cloves and return the pan to the oven for another 10 minutes or so until the tomato begins to char.
Peel the garlic cloves (you should be able to just squeeze them out of their skins). Set aside.
While the tomato and garlic are in the oven, roast the red pepper on the stovetop over a medium-high flame. (You could do this in the oven but I find grilling it over a direct flame yields much better results.) Use tongs to turn the pepper around making sure it is evenly charred. This will take about 8-10 minutes. When completely blackened, place in a small bowl, cover with plastic wrap and set aside to steam for 10 minutes. Gently peel off the charred skin with your fingers (paper towels really help) and discard. Seed the pepper, cut into slices and set aside.
Repeat the procedure with the tomato, placing it in a bowl and covering with plastic wrap for about 10 minutes. Peel the skin and set aside.
Heat 1 Tbsp oil in a small skillet over a medium flame and fry the almonds and bread (crumbs) for 3-4 minutes until golden.
Place the almonds, bread (crumbs), garlic, red pepper, tomato in a small blender. Pulse to coarsely mix. Then add the remaining 2 Tbsp of olive oil, sherry vinegar and pimentons. Blend until smooth. Taste and adjust seasonings, adding more vinegar, pimenton or salt as necessary.
Refrigerate for 15 minutes for the flavors to meld.
Asparagus
Heat a grill pan over high.
Toss the asparagus with 2 tsp olive oil and grill in the pan in a single layer, shaking the pan every once in a while to cook evenly. Cook under just beginning to char, about 5-6 minutes.
Season with sea salt and black pepper.
Serve hot with the Romesco.