Japchae: Korean stir-fried glass noodles with vegetables and beef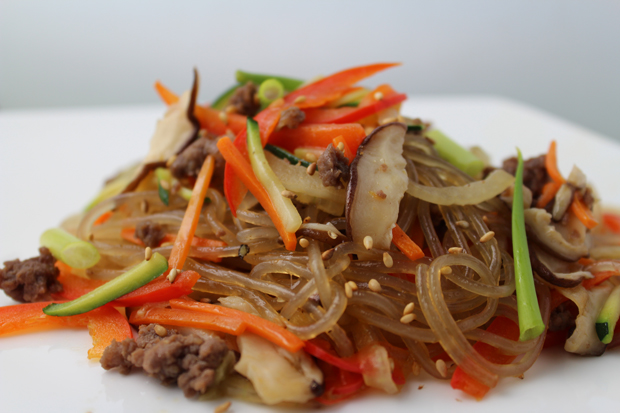 Sampling foods you've never had before is for me one of the tastiest aspect of traveling to a new place. But even better than eating at restaurants or markets is taking a cooking class. Being taught by a pro is especially useful if you're trying to learn about unfamiliar ingredients and techniques, as 'regular' locals can often be ignorant of their own cuisine, having eaten and taken it for granted their entire lives. Last year, for example, I took a 3-day intensive course on traditional Japanese cooking – washoku (和食) – in Tokyo with Elizabeth Andoh. Chef Andoh is originally from America but has lived in Japan and cooked Japanese food for so long that she could easily put most locals, even professionals, to shame with her knowledge and mastery of washoku.
This past summer was no different when I visited Seoul. Having cooked Korean food for a number of years I was interested in upping my game. So I took a short but highly informative and enjoyable class at the Food & Culture Academy with Jae Geum Jeong, a very knowledgeable, friendly and, most importantly as I don't speak any Korean, multilingual instructor. (She speaks excellent English and Japanese, and, for all I know, several other languages.) I was less interested in learning specific recipes than basic techniques, and Chef Jeong was more than willing to answer my many burning questions on the various types of anchovies, kimchi, etc. One dish that I did learn, as it is a personal favorite, is japchae (잡채), made of stir-fried glass noodles, a riot of vegetables and meat. Previous attempts at making it at home had yielded mediocre results so I was eager to know what I'd been doing wrong. The trick it turned out is to julienne and fry each vegetable separately and then very quickly simmer the almost-cooked noodles briefly in the seasoning sauce.
Funnily, when doing a bit of research for this post I looked up 'glass noodles', also known as cellophane noodles. I'd always somehow associated them with Korean cuisine, but it turns out they're essentially noodles made from starch (potato, yam, mung bean, etc.) and common throughout Asia. In Japan, for example, they are made from potato starch and called harusamé (春雨; the kanji literally mean spring and rain, respectively), whereas in China they are typically made from mung beans. The Korean version, called dangmyeon (당면), is made from sweet potato starch. My biggest surprise though was to learn that I'd in fact grown up eating glass noodles in India (see comment above about locals not knowing anything!), where they are called falooda (apparently from the Persian "faludeh"). They are usually served in a sweet drink of the same name, often with a scoop of ice cream (sort of like a sundae). Glass noodles in India are made of arrowroot or wheat. Who knew?! In any case, here's my slightly modified take on Chef Jeong's japchae. I made mine with ground beef, as that is what I had on hand. Thinly-sliced beef is more traditional. Or you can omit the meat entirely for a completely vegetarian dish.
Japchae: Korean stir-fried glass noodles with vegetables and beef
Yield: 4 servings
Prep Time: 20 minutes
Cook Time: 10 minutes
Total Time: 30 minutes
Ingredients:
100 g thinly-sliced or ground beef (any cut)
2 Tbsp vegetable oil
½ cup julienned shiitake
½ cup julienned zucchini
½ cup julienned carrots
½ cup julienned red bell pepper
½ cup thinly sliced onions
2-3 scallions, diced, for garnish
¼ tsp roasted sesame seeds for garnish
200 g glass noodles (dangmyeon, 당면)
Marinade for beef:
2 tsp soy sauce
½ tsp sugar
1 tsp mirin
Seasoning sauce:
1 tsp sesame oil
2 Tbsp soy sauce
2 Tbsp sugar
2 Tbsp water
¼ tsp ground black pepper
½ tsp roasted sesame seeds
Directions:
In a small bowl mix the marinade ingredients together and stir in the beef. Cover and set aside.
Make the seasoning sauce and set aside. Taste and adjust seasoning. (It should be quite sweet.)
In a large skillet, heat about 2 tsp of the vegetable oil and saute the vegetables, one at a time, over medium-high heat, about 1-2 minutes each until softened but still with a bite to them. Transfer to a plate, keeping them separate. Start with the lightest colored vegetable, adding more oil to the skillet as required (you might need more for the shiitake). Set aside.
When the vegetable are done, turn up the heat a bit and saute the beef until cooked through, about 3-4 minutes. Transfer to a plate.
While you're frying the vegetables and beef, bring a large pot of water to a boil and cook the noodles, about 4-7 minutes until al dente. Drain and refresh under cold running water. Drain well.
Put the seasoning sauce in the skillet and bring to a boil over medium-high heat. Add the noodles and toss until they are well coated and heated through. Add the vegetables and beef and toss to mix.
Garnish with the scallions and sesame seeds and serve hot.