Jean-Georges's fried rice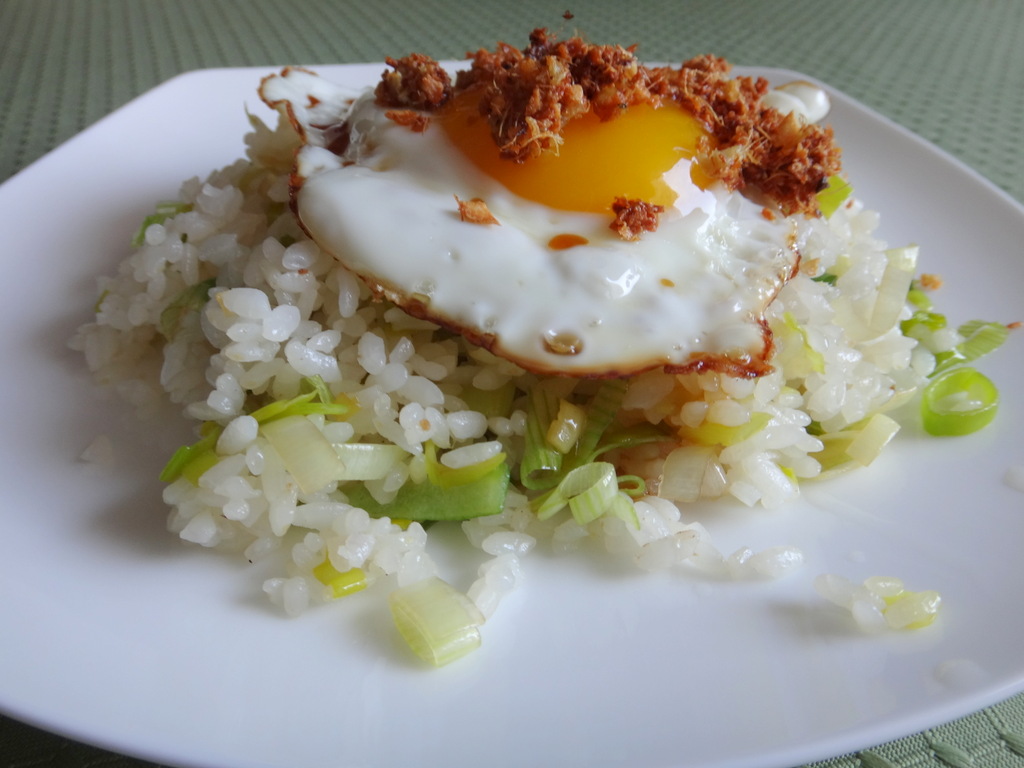 Fusion cuisine seems to have fallen out of favor. Or, rather, the term has. Mixing together ingredients and techniques from different culinary traditions is now so routine that it is hardly worth remarking upon – or giving it a name. Everyone does it. More often than not it is some Asian ingredient – konbu, fish sauce, gochujang, or whatever the latest trend dictates – that finds itself in a typical 'Western' dish. This sometimes works very well (e.g., yuzu cocktails). But often it fails, on occasion spectacularly so (such as the inexplicably popular foie gras xiaolongbao at Annisa). What I've come to realize is that it takes serious talent to be able to successfully marry very different cooking traditions.
The best 'fusion' cooking is not only delicious, but also unobtrusive (as opposed to the more common in-your-face style). It also tends to be very simple. Alas, only a few can pull it off and I consider myself lucky to live in New York where a number of such chefs ply their trade, none more so than Jean-Georges Vongerichten. Mr. Vongerichten, a classically-trained French chef, is famously good at this and today's recipe (via Mark Bittman) is a perfect example of his style of cooking. Don't let the simplicity of the dish dissuade you from making it. You'll be surprised by just how tasty it is!
Jean-Georges's fried rice
Prep time:
Cook time:
Total time:
Ingredients
2 tbsp (plus 1 tsp) canola or other neutral oil
2 tbsp minced garlic
2 tbsp minced ginger
1 leek, thinly sliced (white and light green parts only)
2 cups cooked short-grain rice (make it a day earlier and refrigerate overnight)
2 eggs
2 tsp sesame oil
2 tsp soy sauce
salt to taste
Instructions
Take rice out of fridge and bring to room temperature
Heat 2 tbsp oil in a large skillet over medium-high. Its best to do this in a small spot near the edge and to position the skillet so that the heat source is directly underneath the oil. Stir the garlic and ginger into the oil and fry until golden brown. You may have to stir frequently to prevent sticking. Be careful not to burn the garlic/ginger. Scoop out with a slotted spoon and set aside on a paper-towel lined plate.
Place the skillet back on the stove and slowly cook the leeks over medium-low for about 4-5 minutes until softened. Add a pinch of salt, mix, and add the rice. I like to crumble it in with my hands so as to break up any clumps. Cook until the rice is heated through. Taste for salt and set aside.
While the rice is heating up, heat ½ tsp oil in a small skillet. Break the egg into the skillet and fry, sunny side up, until the edge is slightly browned and crispy but the yolk is still runny. Repeat with the other egg.
To serve, divide rice between two plates and carefully slide the fried eggs over them. Drizzle on the soy sauce and sesame oil. Garnish with the ginger and garlic and serve hot.