Korean rice cakes with kale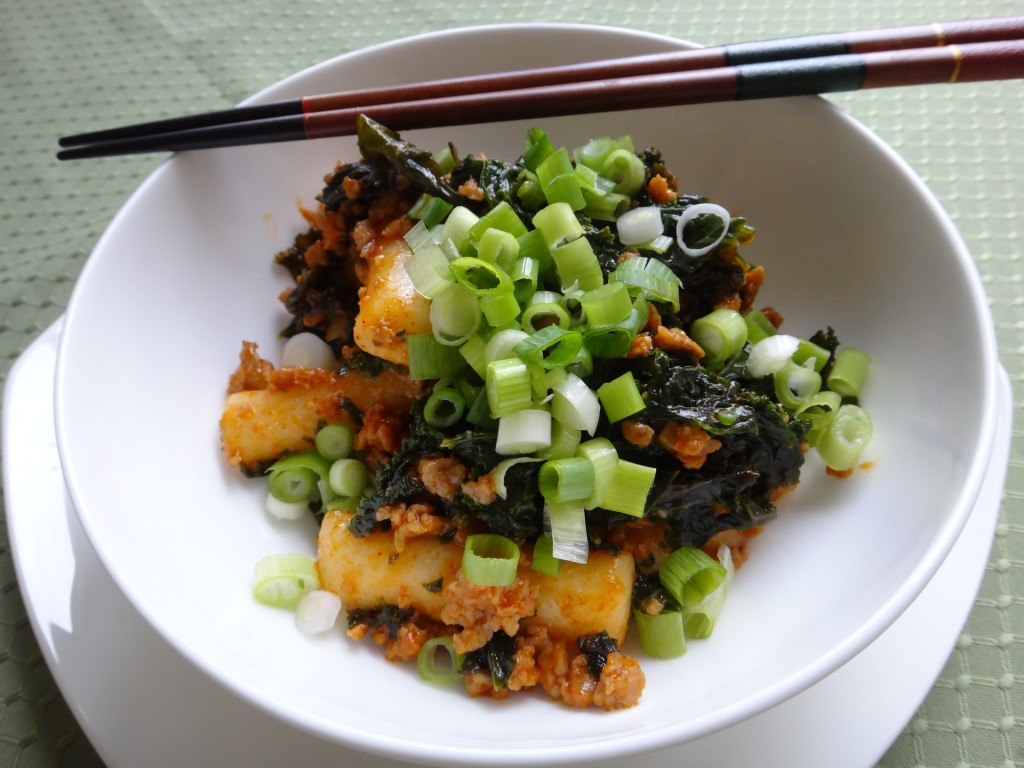 Unless one has been living in a cave for the past several years its hard to have missed the phenomenon that is Momofuku and its chef David Chang. (Okay, perhaps I'm being presumptuous here and only the food obsessed know what/who I'm talking about.) Of all the restaurants in the Momofuku empire, Ssäm Bar is still my favorite. Its a veritable melting pot of flavors – Korean, Japanese, Vietnamese, and French to name a few – that seem completely improbable until you try them. I mean, Brussels sprouts and fish sauce? Tofu and arugula? But, funnily enough for a place named after the Japanese inventor of instant cup noodles, Korean is what defines its food.  Arguably, Momofuku has both ridden the wave of popularity of Korean cuisine, as well as done more to popularize it – at least in New York – than any other restaurant. From kimchi to bibimbap, and fried chicken to japchae, its easier than ever to find Korean food, occasionally even decent Korean food. Its odd, then, that one of the most common and lowly dishes of Korean cuisine, tteokbokki, is rarely to be found on most menus. Its a dish frequently made of nothing more than rice cakes simmered in a hot and sweet sauce and scallions sprinkled on top. In Korea it is cheap and ubiquitous, more of a street food to be eaten on the move than at a sit-down restaurant (Seoul has an entire street called Shindang-Dong devoted to its charms).

Which brings me back to Momofuku. My ardor for that restaurant has waned since I learned (1) just how much salt, sugar, and fat goes into each dish, and (2) how easy it is – with the benefit of the excellent Momofuku cookbook – to recreate many of my favorite dishes. The recipe today is inspired by a dish I ate at Momofuku when I first went there several years back: a glammed up version of tteokbokki. At that time I didn't quite know how Momofuku made their version; I only found out when writing this post that there is in fact a recipe in the Momofuku cookbook (duh!). But even back then when I was just starting to develop an interest in cooking it wasn't hard to come up with something that looked and tasted similar. My version as it turned out is quite different from the original. But it is, I think, just as tasty and far less involved. Which is a good thing because one can easily throw it together on a weeknight with enough leftovers for lunch the next day. Incidentally, rice cakes harden as they cool so this dish is best eaten hot. But if you're warming leftovers try not to overheat as the rice cakes will become crisp. A short zap in the microwave is all you need.
Ingredient note: There are two main ingredients in this dish. Rice cakes, known as Tteok, of course, and gochuchang, a fermented hot and slightly sweet sauce made of red peppers and soybeans. Both are readily available at Korean markets (for example, m2m and H-Mart if you're in New York). I generally use the long cylindrical type of rice cakes shown below. As for gochujang, it is central to Korean cuisine and a good thing to have on hand. There are several kinds and brands available. I don't really know how they differ from each other or if one is better than the others. I use the one pictured below.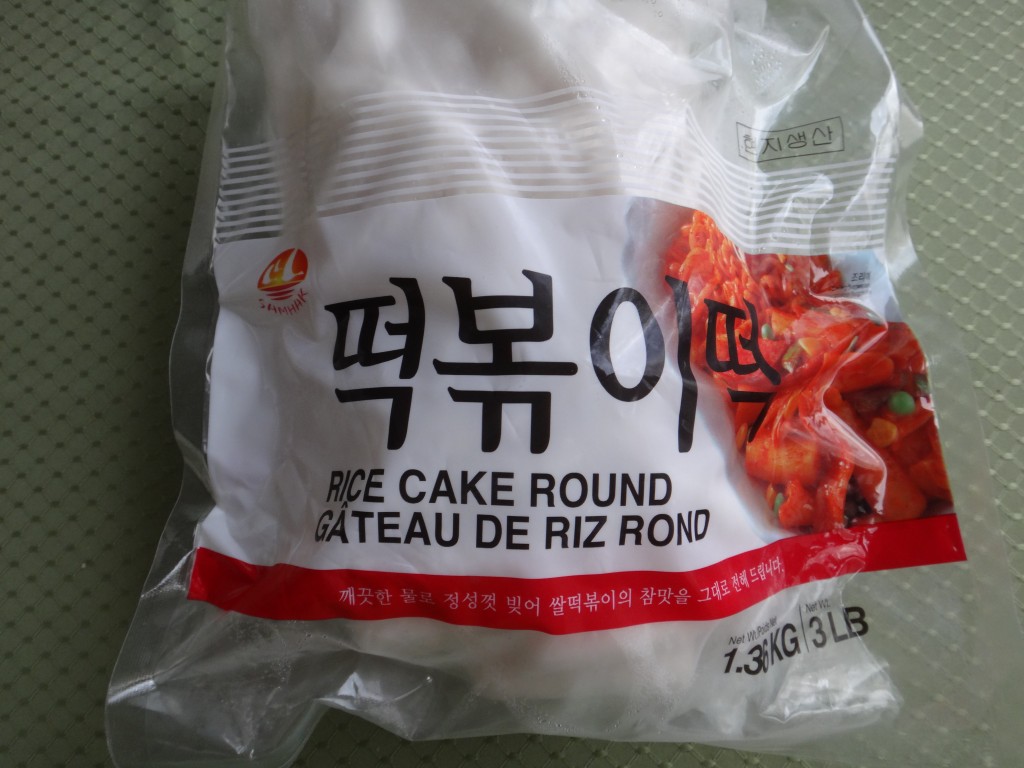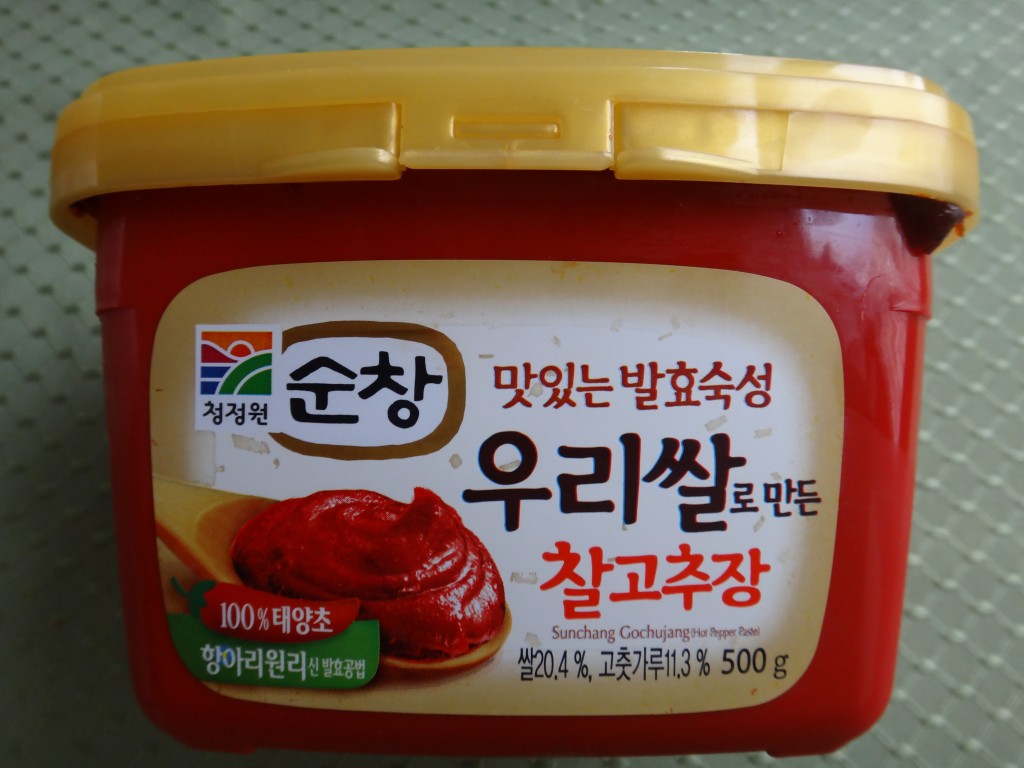 Korean rice cakes with kale
Prep time:
Cook time:
Total time:
Ingredients
1 bunch lacinato kale (aka dinosaur kale), washed and stemmed (about 5 cups, packed)
1 lb frozen rice cakes
5 cloves garlic
½ lb ground pork
1 tbsp sesame oil
4 tbsp gochujang
2 tbsp soy sauce, preferably usukuchi or light
5 scallions
Instructions
Bring a large pot of lightly salted water to a boil
While the water is heating up, mince the garlic and chop the scallions into thin slices and set both aside.
When the water comes to a boil, put the stemmed kale in and cook until soft (about 4-5 min). Remove with a slotted spoon and refresh under cold running water. Drain, squeeze out the water, and coarsely chop. Set aside.
Bring the water back to a boil (or use a fresh pot of water).
Heat the sesame oil in a wok or deep skillet over medium heat, throw in the garlic and fry for 1 min. Then put in the ground pork and fry, using a wooden spoon to break up the pork, until cooked thoroughly.
While the pork is cooking, throw the rice cakes into the boiling water and allow them to soften up (about 3-4 min). Use chopsticks to check whether they are done (you should be able to readily squeeze them).
Add 3 tbsp of the gochujang to the pork, stir well and fry for another 3-4 min. Add the kale and mix well.
Once the rick cakes are done, drain and refresh under cold running water, and add them to the pork/kale mixture.
Turn up the heat to medium-high, and stir in the soy sauce and remaining tablespoon of the gochujang and mix well. Cook for another 2-3 min, stirring. Adjust the spiciness and salt by adding more gochujang and soy sauce, respectively.
Sprinkle scallions on top and serve.