Pulpo de Gallega: Galician-style octopus with potatoes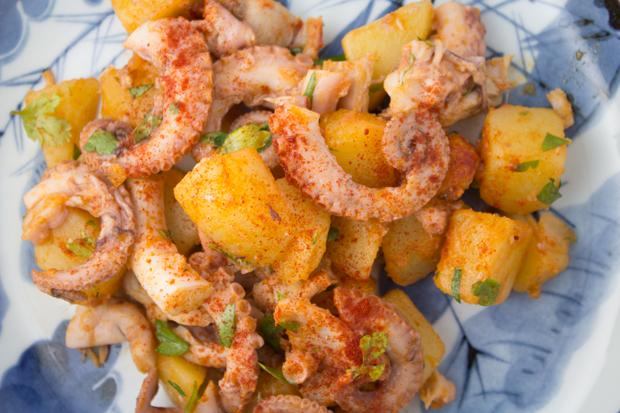 It is a sign of my changing culinary interests that on a recent extended trip to Seoul it only took a few days after my arrival before I stated craving Spanish food. Not that I wasn't enjoying the fantastic Korean food on offer. But as long-time readers of this blog will have noticed my tastes have recently veered toward the Mediterranean and I did miss the ready access to those ingredients that one takes for granted in Europe. Sure, if you look hard enough you'll find most foreign foods in Seoul. But they tend to be eye-wateringly expensive and I wasn't about to risk bankruptcy for a bacalao fix! And then it occurred to me: Seafood is usually plentiful and excellent here so why not make pulpo de gallega? And as luck would have it, I'd had the foresight to bring along a small bag of the all-essential pimenton!
First, though, I had to find whole, uncooked octopus. I thought this would be difficult. In Japan, for instance, it is all but impossible to find octopus that hasn't already been boiled, usually with vinegar. But it proved much easier in Seoul and in the process I discovered Gyeongdong Market, a massive outdoor market extending between the Jegi-dong and Cheongnyangni metro stops. From fresh nuruk to dried anchovies, and herbs to high-end Korean beef, this market has it all and at prices far keener than at local supermarket chains such as Home Plus and E-Mart. And you know this is the real deal when there isn't a single foreigner or tourist in sight! There was an amusing complication. I'd been told to ask for "seng muno" (literally "raw octopus"). But when I did the vendors would point at giant octopus costing as much as $100! When I pointed to the smaller octopus they would shake their heads and say it wasn't "seng muno". Now, while I'm no expert on cephalopds, I thought I knew my octopus from other sea creatures and was quite confused. That is until I discovered that Korean seems to have multiple words for octopus and the small ones that I wanted are called "nakji" (낙지). (For reference, you can also easily buy octopus at larger supermarkets and, of course, the Norangjin fish market.)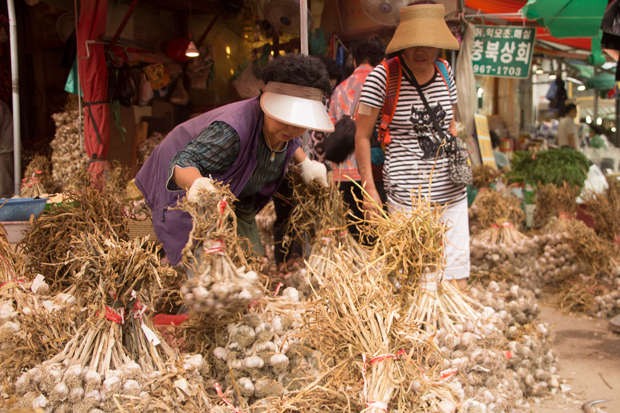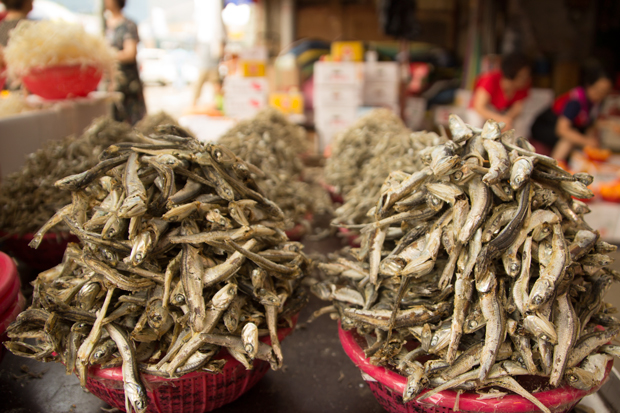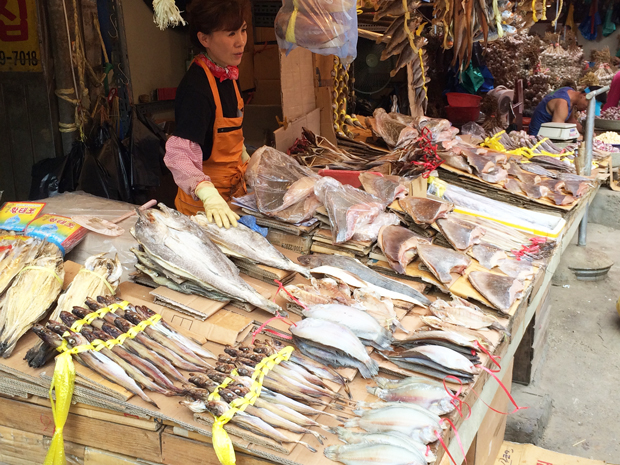 But on to the recipe. This classic octopus and potato dish from Galicia is as easy as it gets. You cook octopus until it is tender. Boil a couple of potatoes and toss everything with olive oil and pimenton. It hardly even needs a recipe but the hint in "Rick Stein's Spain" to boil the potatoes in the water in which you cooked the octopus is priceless. While I've not been to that part of Spain I once had a fantastic version of pulpo de gallega at a Galician restaurant in Barcelona. This version in my opinion is at least as good.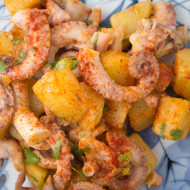 Pulpo de Gallega: Galician-style octopus with potatoes
Yield: 4 servings
Prep Time: 10 minutes (plus 1 hour for marinating)
Cook Time: 1 hour
Total Time: 1 hour 10 min
Ingredients:
1 kg octopus, cleaned
2 bay leaves
1 onion, quartered
½ carrot, cut into chunks
7-8 black peppercorns
4 cloves garlic, peeled
2 medium potatoes, peeled and diced into 1 cm cubes
3 Tbsp olive oil
1 tsp pimenton dulce, plus more to taste

½ tsp pimenton picante, plus more to taste

Coarse sea salt
1 Tbsp finely chopped parsley
Crusty bread to serve
Directions:
Place the onion, bay leaves, peppercorns and 2 Tbsp salt and fill with cold water. Bring to a boil and drop the octopus in, one at a time, tentacles first. Turn down heat to a simmer and cook, covered, until the octopus is tender, about 1 hour. Check every once in a while to make sure the octopus is completely submerged and cooking evenly.
Remove the octopus from the pot and set aside to drain. Also remove the onion, bay leaves and peppercorns and discard.
Bring the water back to a boil and add the diced potatoes. Cook until done, about 5-10 minutes. Drain well.
Heat the olive oil in a skillet over a medium flame and add the diced potatoes. Fry for 1-2 minutes before transferring to a large bowl.
Slice the octopus into bite-sized pieces and add to the potatoes. Sprinkle some salt and more pimenton, if desired, on top and toss to mix. Garnish with the parsley and serve with bread.