Quinoa, chickpea, and pomegranate salad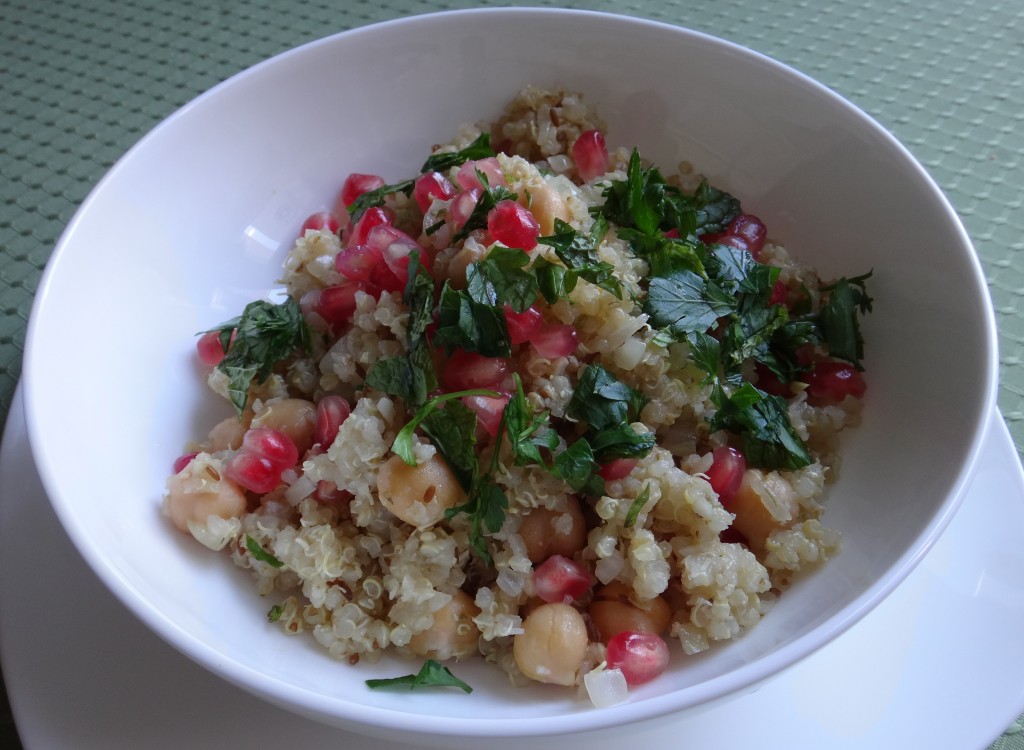 I don't much like winter. Apart from the cold, its all downhill after the first snow, especially in New York where it quickly turns to a less than attractive sooty color. And I won't even mention the icy slurry accumulating in large puddles just waiting for you to put your foot in them. If this season has a saving grace it is because its the time of year when pomegranates become available. In India its a common enough fruit and not regarded as special (mango gets all the love). Here, though, its only relatively recently that pomegranate has become widely available and its health benefits recognized – so much so that its now considered a "superfood". More recently, too, I've learned that there are many more ways of eating – and even cooking – it than 'just' as a fruit. Pomegranate goes well with everything from grains to vegetables. In fact, pomegranate molasses – common in Middle Eastern cooking – makes for both a fantastic vinaigrette and a marinade for meats. (The historical importance of pomegranate to this region is such that The Economist has started a new blog named after the fruit.)
Over the past month I've made a number of dishes featuring pomegranate and I'll be talking about them over the next few weeks. But I want to start with one that's particularly simple. Its a recipe from the excellent "Recipes for Health" column by Martha Rose Shulman in the New York Times. If you think "healthy" food can't be delicious this column will change your mind! I like my food to be robustly spiced so I've changed the ratio of some of the ingredients from the original.
Quinoa, chickpea, and pomegranate salad
Prep time:
Cook time:
Total time:
Ingredients
½ cup uncooked quinoa, washed
1 small onion, diced
1 cup cooked chickpeas
2 tsp cumin seeds
2 tsp coriander seeds
1 tbsp olive oil
2 cloves garlic, minced
½ cup pomegranate seeds
2 tbsp each chopped mint and parsley for garnish
salt to taste
Instructions
Place the quinoa in a pot with 1 cup of water and bring to a boil. Lower the heat, cover, and simmer for 10-15 min or so until all the water has been absorbed.
In the mean time, toast the cumin and coriander in a large skillet over medium heat for a few minutes until fragrant. Grind the spices in a spice grinder or mortar and pestle.
Once the quinoa is cooked, heat the oil in the same skillet over medium and fry the onions until soft. Add the garlic and spices and fry for another 2-3 minutes. Add the quinoa, chickpeas, pomegranate, and a couple of pinches of salt. Mix well and cook for 4-5 minutes until heated through. Adjust for salt.
Garnish with mint and parsley and serve.