Walnut, brown rice and buckwheat crackers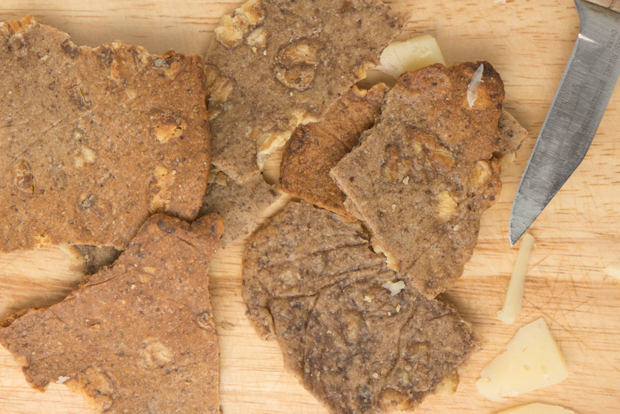 In Europe, the UK is usually the first to adopt (or bear the brunt of depending on your point of view) emerging American trends. And so it has been with gluten-free food. I was therefore hardly surprised that my local Tesco supermarket recently opened a new section devoted to "free from" products. Much more surprising was a report in the New York Times about how even Paris–a city whose very metaphorical foundations are made of this protein!–had succumbed as well. But I almost fell off my chair when I read in the same newspaper that one could now find gluten-free tempura in Tokyo. Now, admittedly, this being at the Mandarin Oriental, it is probably more for the benefit of gaijin tourists rather than the locals, as I've yet to meet a Japanese person suffering from celiac disease, real or otherwise. But trends, allergies and nutrition aside, there's an excellent reason to incorporate non-wheat flours into your diet: they're tremendously flavorful.
Gluten, as you will know is an essential protein in wheat and some other grasses. Not to mention to baking. It is what gives structure and elasticity to dough, making, amongst other things, bread chewy. But non-wheat flours have also been used since ancient times across the world. Think, for instance, of Japanese soba (buckwheat), German dinkelbrot (spelt) and pumpernickel (rye), Italian castagnaccio cake (chestnut), Indian flatbreads called thepla (sorghum (juwar) and millet (bajri)), Mexican tortillas and tamales (corn), Ethiopian injeera (teff) and Japanese mochi (rice). But how to use these flavorful and highly nutritious flours lacking gluten in conventional baking has posed a significant technical challenge. Luckily, it has been taken up and met by some of the best pastry chefs around, especially in America. The trick is to use flours such as rice in supporting roles (and occasionally ingredients such as Xantham gum). I learnt this from "Flavor Flours", a cookbook I was introduced to recently by a friend training to be a pastry chef in New York. The book, by Alice Medrich, is chockfull of useful information and incredible recipes. But what really appealed to me is that its primary goal is to introduce a broader range of tastier flours into baking, rather than the avoidance of gluten per se (which I have no need to or intention of doing). Today's recipe is a typical example of what you'll find in the book. It combines brown rice and buckwheat flours with walnuts to make for incredibly delicious crackers that are a perfect match for hard cheeses like Manchgego.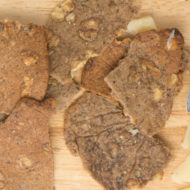 Walnut, brown rice and buckwheat crackers
Yield: 4 servings
Prep Time: 20 min
Cook Time: 20 min
Total Time: 40 min
Ingredients:
100 g brown rice flour
120 g white rice flour
60 g buckwheat flour
100 g walnuts, coarsely chopped
40 g flaxseed meal or chia seeds or a mixture of the two
1 Tbsp brown sugar
1½ tsp salt
¾ cup + 1 Tbsp water (205 ml)
1 Tbsp rice vinegar
2 tsp baking powder
¼ cup neutral vegetable oil
cheese to serve
Directions:
Preheat oven to 450°F/230°C.
Mix the first several dry ingredients (through salt) in a large bowl. Add the water and vinegar and stir to make a thick dough. (This takes some effort - and a sturdy wooden spoon helps - if you don't have a stand mixer!) Add the baking powder and oil and mix again.
Place a large piece of parchment paper (the size of a baking sheet) on a work surface. Spoon about a third of the dough onto it and cover with another piece of parchment paper. Using a rolling pin flatten out the dough until it is as thin as you can get it. Peel off the top parchment paper and flip the flattened dough along with the bottom parchment paper onto a baking sheet (dough side down).
Bake in the lower third of the oven for about 5-6 minutes, switching to the upper third and rotating front-to-back halfway through. Remove from the oven and peel off the parchment paper before returning to the oven for a few more minutes until beginning to brown.
Remove from the oven and place on a rack to cool.
Repeat with the remaining dough.
Serve with cheese.
From Flavor Flours: A New Way to Bake with Teff, Buckwheat, Sorghum, Other Whole & Ancient Grains, Nuts & Non-Wheat Flours by Alice Medrich (link)