Batata vada: Indian potato fritters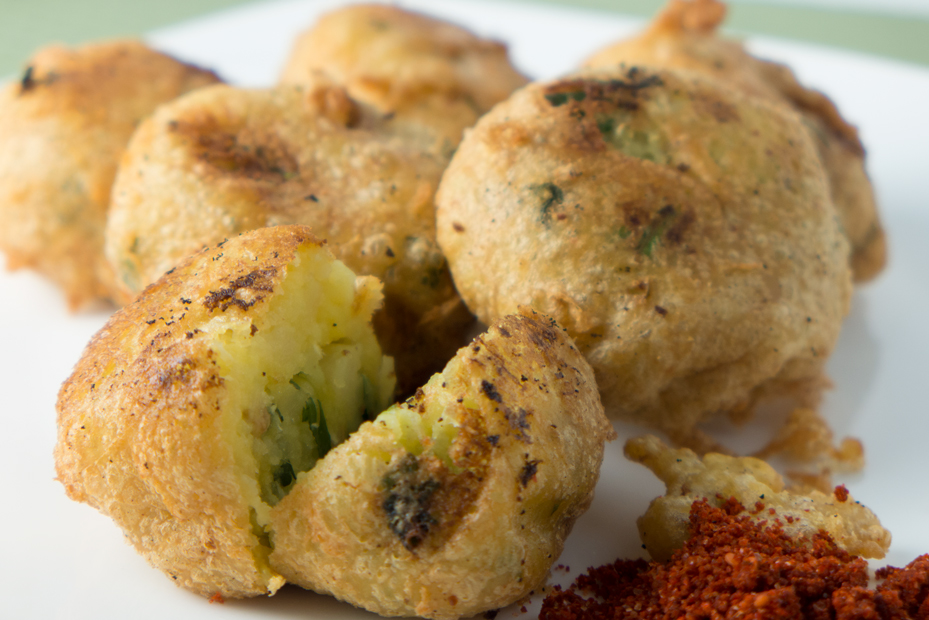 I recently returned from a month-long trip to India and Japan with lots of new recipes under my belt (having eaten rather too well I mean that both figuratively and literally!). I'll be sharing some of them in the coming weeks and I thought I'd start with one that is hugely popular throughout India: batata vada. This is a sort of potato (batata) fritter (vada) found just about everywhere, from fancy restaurants to school cafeteria menus. But it is most commonly eaten as an on-the-go snack called "pav vada" in the street food capital of India, Mumbai, where it is famously stuffed between loaves of bread ("pav") slathered with a spicy green coriander or red garlic chutney. A vegetarian hamburger as it were. Roadside stalls selling pav vada are as numerous as those hawking that other snack beloved of Mumbaikers: chutney sandwich.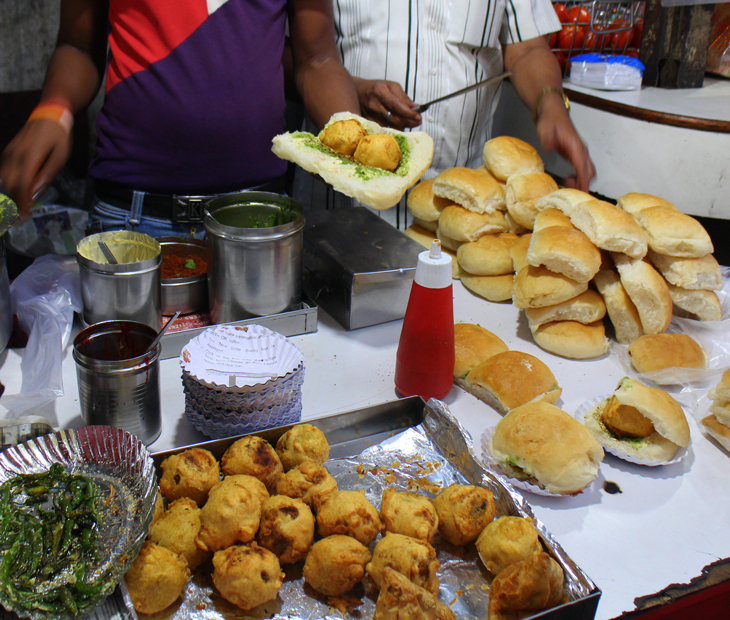 An aside: I've mentioned before how much Indian cuisine owes to the outside world but only recently did it occur to me that batata, the word for potato in many Indian languages, is not of Indian origin. This realization hit as I was making one of my favorite Spanish dishes, patatas bravas. Patata? Batata? There must be a connection, no? Close, but not quite. Batata is actually Portuguese for potato. (This may be well known to you polyglot readers but I'm quite rubbish at languages!) And that got me curious about the origin of the word "pav" (also spelt "pao"), what western-style bread is called in India. The simple and now unsurprising answer appears to be: pão is the Portuguese word for bread. (To be sure there are other explanations – some of them quite wild – but this one is the most obvious.) Incidentally, pão is pronounced with a nasal twang which is perhaps where the Japanese get their word for bread: pan (パン).
But back to batata vada. The recipe is pretty simple although, admittedly, it does call for deep-frying, which can be both daunting and messy. But if you don't mind it (here are some useful hints) then these makes for a delicious snack. Or an appetizer at a party, although I must warn you that they are highly addictive and you won't be able to make enough to satisfy your guests!
Ingredient note: Indian chickpea flour, also called gram flour or besan, is made out of chana dal, a split and hulled form of a rather different variety of chickpea known as Bengal gram or kala chana (black chickpeas) rather than the garbanzo variety you may be more familiar with. It is easy to find at Indian grocery stores.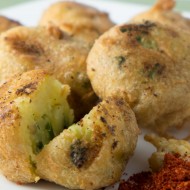 Batata vada: Indian potato fritters
Yield: Makes 10-12 vada
Prep Time: 20 minutes
Cook Time: 20 minutes
Total Time: 40 minutes
Ingredients:
For the tempering oil:
1½ Tbsp vegetable oil
2 tsp udad dal
1 tsp mustard seeds
20 curry leaves, roughly torn
For the stuffing:
2 large potatoes, boiled and skinned
2" piece ginger, grated
5 cloves garlic, grated
juice of ½ lime
¼ tsp turmeric
1½ tsp salt (more to taste)
1-2 Thai chilles, minced (more to taste)
3 Tbsp grated coconut
8-10 sprigs of cilantro, coarsely chopped
For the batter (besan):
½ cup chickpea (gram) flour
pinch of red chile powder
pinch of turmeric powder
¼ tsp salt
½ tsp asafetida (hing)
¼ tsp baking soda
½ cup water
Directions:
Place the potatoes in a bowl and roughly mash them taking care to leave chunks intact.
Add all the ingredients listed above under stuffing and set aside.
In a small skillet heat 1½ Tbps of oil over medium heat. Add the mustard seeds and, once they begin to pop, the udad dal. As soon as the udad dal starts to turn red chuck in the curry leaves, shake the pan to mix and remove from heat. Add to the potato mixture.
Using a wooden spoon or spatula gently mix until all the spices are well incorporated. You should aim for a lumpy rather than smooth texture. Adjust flavors, adding more salt, lime juice and chile if necessary.
Take a golf ball-size amount of the potato mixture and roll into a ball about 2½ - 3" diameter. Place on a plate. Repeat until all the mixture is used up.
Next, in another bowl mix together all the ingredients for the batter. Add the baking soda just before you start frying.
In a heavy and deep stockpot heat the vegetable oil for deep frying. Once sufficiently hot (test by putting a drop of batter in; it should instantly rise to the surface) dip each potato ball in the batter until well coated and carefully place in the pot. Do this in batches of 2-3 so as to not overcrowd. Fry for about a minute until the bottom is nicely golden in color. Then, using a slotted spoon or cooking chopsticks flip each fritter over and cook for another minute until the other side is done. Remove from pot and place on a paper towel-lined plate. Repeat with the other vada.
Serve hot with green cilantro chutney.