Chorizo and kale tamales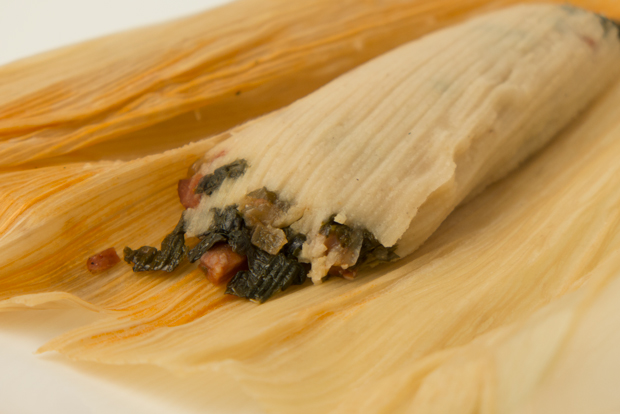 New York is justifiably famous for some of the best–and poshest–food on Earth. But much as I miss the Japanese omakase restaurants, what I really pine for are those hole-in-the-wall places that make eating out in New York such an amazing experience. Places such as Xi'an Famous Foods in Chinatown and Taqueria y Fonda in my own former Upper West Side neighborhood. Not to mention the tamale vendor on W 96th and Broadway. Sadly, tamale ladies–or Mexican food of any kind–are rather thin on the ground in the UK, let alone Oxford. So when I had the chance to visit San Francisco a few months ago I made a point of picking up a few ingredients so I could make my own tamales!
Easier said than done. Because while I've eaten plenty of tamales in my time I'd never made one. I looked up some recipes online but nothing really appealed as they invariably involved heart attack-inducing quantities of lard. But there were other common themes that I could get on board. Soak the husks in hot water. Make 'dough' from the masa harina with a flavorful liquid. Assemble. Steam. Oh, and make the filling. For my first tamale I decided to play it safe and reprupose one of my favorite dishes: a Spanish stew made of chorizo, kale and chickpeas. To make it into a filling I simply skipped the chickpeas and liquid. So how did they turn out? Lets just say I don't think the tamale lady on W 96th St would be embarrassed to call them her own!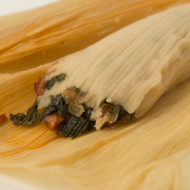 Chorizo and kale tamales
Yield: 4 servings
Prep Time: 15 minutes (plus 1 hour for soaking husks)
Cook Time: 1 hour 15 min
Total Time: 1 hour 30 min (plus 1 hour for soaking husks)
Ingredients:
4 corn husks
1 large bunch kale (dinosaur/curly) or cavallo nero
1 Tbsp olive oil
1 small yellow onion
200 g chorizo, casing removed and diced into small (2 mm) cubes
½ tsp pimenton
¼ tsp red chile flakes
½ tsp ground cumin
4 cloves garlic, finely minced
salt to taste
freshly ground black pepper
small handfull parsley, chopped
¾-1 cup chicken stock
knob of butter
¾ cup masa harina
½ tsp baking powder
Directions:
Wipe clean the husks and soak in hot water until pliable, about 1 hour.
Bring a pot of salted water to a boil and blanch the kale for about 1 minute. Drain and refresh under cold running water. Squeeze out as much water as you can and chop coarsely. Set aside.
In a large skillet, fry the onions in olive oil over medium heat until softened. Season with a pinch of salt and pepper. Add the chorizo, pimenton, chile flakes, cumin and garlic and fry until the sausage is cooked through. Stir in the kale and parsley and mix well. Adjust flavors and set aside to cool a bit.
In a small bowl mix together the slightly warmed stock with butter. Season lightly with salt as required.
In another bowl, mix together the masa harina and baking powder and pour in the stock, a bit at a time, until you have something with the consistency of wet clay.
To assemble, spread out the husk on a flat surface and spoon a thin layer of the 'dough' onto it, just off the center. Place some of the kale-chorizo filling on top in a line, lengthwise. Fold the husk over so that the filling is covered by the masa. Roll one end of the husk and hold it in place with a toothpick. Repeat with the other end. Assemble the other tamales.
When ready to cook, bring a large pot of water to a bowl. In a steamer tray place two of the assembled tamales (or as many as your tray will hold) and place in the pot. Steam, covered, for about 45 minutes-1 hour until a toothpick inserted into the tamale comes out cleanly.
Serve hot.