Dan dan mian (Sichuan noodles)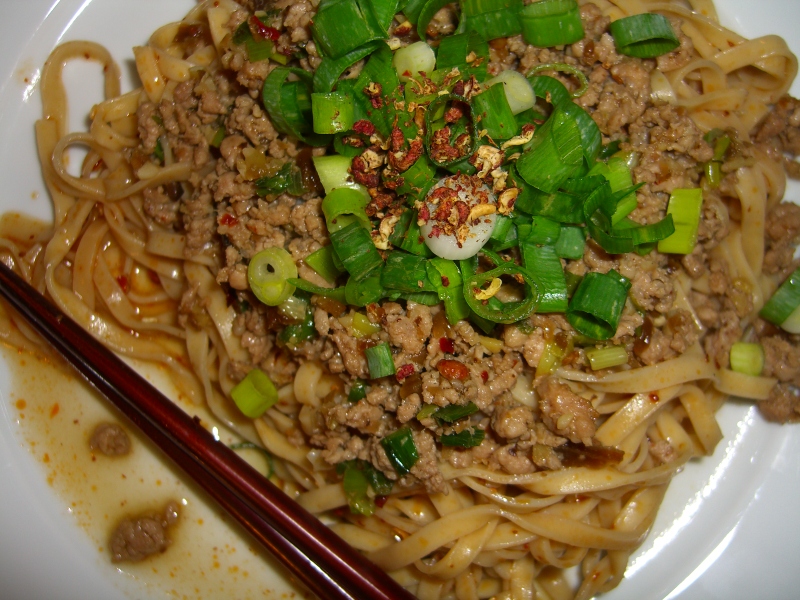 Regular readers will know that I am partial to ramen. But I like noodles in all their glorious variety: from soba and udon, to kalguksu and mifun. And of course pasta (although I tend not to put them in the same category). I especially like them stir fried, as in yakisoba and japchae, and in soups, particularly pho and naengmyeon. So I thought that it might be about time to feature a noodle recipe. What good timing, then, that Diana Kuan, the author of the excellent Appetite for Asia blog, is hosting a virtual potluck on her website in support of her newly published book, The Chinese Takeout Cookbook from which this recipe for dan dan mian is adapted.
Dan dan mian is a classic Sichuan dish that is one of my favorite. I invariably order it when eating at a Sichuanese restaurant, although every version I've tried has been different (sometimes dramatically so)!. What they (the good ones at least) had in common is the mala that is a characteristic of Sichuan food. This rendition definitely has that in abundance!
Ingredient note: This recipe calls for chili oil, a staple of Chinese cooking that I never seem to have on hand. If you're in the same boat, all is not lost. This neat little trick from Andrea Nguyen's Asian Dumplings book has saved the day many a times. Just heat 3-4 tablespoons of oil (peanut is traditional but in a cinch canola or grapeseed will do) until smoking hot. Turn off heat and allow to cool for about 5 minutes and then pour over a tablespoon of dried red chili flakes or coarsely ground dried chiles (I've used kochukaru, Korean red chili). I use a glass jar for this. Cool completely before covering. Its best to make this at least a day in advance for the flavors to come out.
Dan dan mian (Sichuan noodles)
Prep time:
Cook time:
Total time:
Ingredients
8 ounces dried Chinese egg or wheat noodles
¼ lb ground pork
½ tbsp peanut or canola oil
3 cloves garlic, minced
1" piece ginger, minced
2 scallions, white and green parts diced separately
2 tbsp Sichuan preserved vegetable (known as ya cai - 芽菜 - see my previous post)
1 tbsp Shaoxing rice wine
Salt to taste
Sauce:
¼ cup low sodium chicken stock
2 tbsp soy sauce
1 tbsp Chinkiang vinegar (Chinese black rice vinegar) or balsamic vinegar
2 tbsp chili oil (see ingredient note)
1 tsp sesame oil
½ tsp sugar
1 tsp (plus, optionally, more for garnish) Sichuan peppercorns, ground
Instructions
Cook noodles according to package instructions. Drain and divide between two serving bowls.
In a small bowl, mix together all the sauce ingredients. Adjust flavors (you might want more or less heat) and pour over the noodles.
Heat oil over medium-high heat in a skillet. Stir in the ginger, garlic, white parts of scallions, and ya cai. Cook for about 30 seconds or so and then stir in the pork. Cook until done, using a wooden spoon to break up the meat. Add the rice wine and mix well.
Sprinkle the meat over the noodles and garnish with the remaining scallions and (optionally, if you want more mala) Sichuan peppercorns before serving.