Gujarati-style upma (semolina)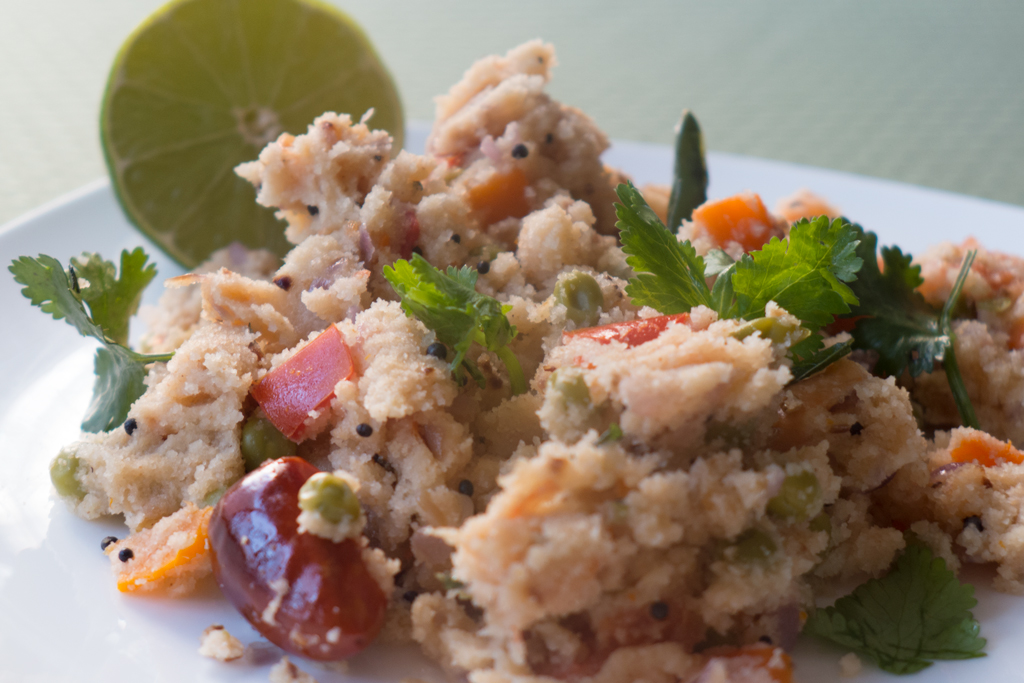 There is more in common between Italian and Indian cuisines than you might imagine. This is likely due to the Muslim influence on both countries. For instance, according to Curry: A Tale of Cooks and Conquerors by Lizzie Collingham, my go-to source on such matters, both risotto and biryani have their origins in pilau, the centerpiece of Persian cuisine. (The Spanish, too, owe paella to pilau.) And, perhaps not coincidentally, both risotto and biryani are notoriously hard to get right – as I can testify from recent experience!. Then there is semolina, out of which – most famously – pasta is made, but also widely used in India where it is known as 'rava' or 'sooji'. It is a key ingredient in both savory and sweet dishes ranging from dosa to halwa. (Astonishingly, to me at any rate, according to Wikipedia, the word 'semolina' comes – via Latin – from Sanskrit!)
Semolina/rava features in many of the Indian dishes I make, but my favorite by far is upma which originates in the south but is eaten throughout the country. Upma is most frequently had at breakfast (think of it as an Indian porridge but mushy rather than liquidy), but it also makes for a tasty and healthy lunch or snack. There are countless regional variations of upma; this is the Gujarati version that I typically make.
Ingredient note: This recipe calls for two ingredients you may or may not have on hand: curry leaves and urad dal. Both can be found in Indian grocery stores. Curry leaves are either sold fresh or frozen (ask for "kadi patta"). Urad dal is a white, split lentil widely used in Indian cuisine, especially in the south. Confusingly, urad is sold in several versions, including whole seeds which are black in color; split; and skinned (hence the white color) and split. The last of these is the most common type and the one you want.
Gujarati-style upma
Prep time:
Cook time:
Total time:
Ingredients
½ cup shelled peas
½ small carrot, peeled and diced (about ½ cup)
1 tomato, diced (juices reserved)
juice of ½ lime
2 tsp canola oil or ghee
1½ tsp mustard seeds
2 tsp urad dal
4 whole dried red chillies (boriya marcha)
2 Thai chillies, stemmed
1" piece ginger, grated or finely minced
10-12 curry leaves (kadi patta), washed and dried
1 medium red onion, diced
1 cup rava (semolina)
salt
Cilantro for garnish
Lime and green cilantro chutney to serve
Instructions
Place 1½ cups water along with the peas and diced carrots in a saucepan and add ¼ tsp salt. Bring to a boil over medium heat. Reduce heat and simmer, covered, until the vegetables are tender (but not overcooked). Turn off heat and stir in the diced tomatoes with reserved juices and lime juice. Do not drain. Cover and set aside.
While the vegetables are cooking, heat the oil or ghee in a large saucepan over medium high. Add the mustard seeds and as soon as they start 'popping', add the urad dal, both chillies, curry leaves, and ginger. Fry, stirring often, until the urad dal starts to turn red. Then stir in the onions and fry until they begin to brown at the edges, about 5 minutes.
Once the onions are done, lower heat to medium and add the rava and ½ tsp salt. Mix well and fry for 20 minutes or so, stirring frequently to make sure the rava does not stick to the pot or burn. Taste for salt.
Stir in the vegetables along with the water in which they were cooked and mix well until the water has been absorbed by the rava, taking care not to mash the vegetables. You should end up with a slightly mushy but still fluffy mixture. Add more water by the teaspoon if you think it is too dry.
Garnish with cilantro and serve with lime and green chutney on the side.