Hake stew with doenjang (Korean miso) vinaigrette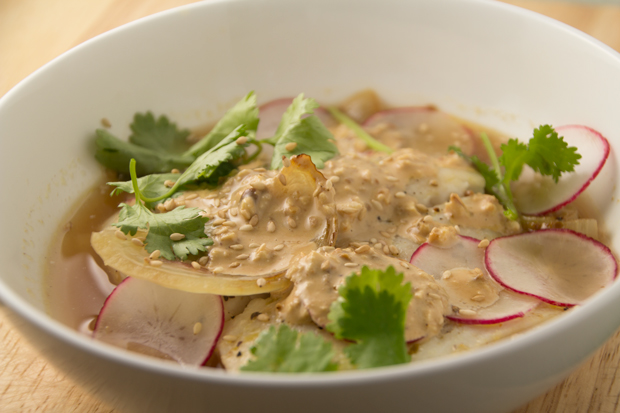 On a recent trip to Japan and South Korea–from where I'm writing this post–it struck me, not for the first time, that for all the economic competition between the two countries and Korea's historical grievances for Japan's colonial past, when it comes to cultural and culinary matters there is a love affair between the two countries. K-pop and Korean cosmetics are hugely popular in Japan, while Japanese food is second only to Korean food in popularity in Seoul. Indeed, from the organization of their economy to convenience stores and bakeries, Koreans have made an art form of copying Japan, often putting their own spin on the original. I came across the most recent example of this in Seoul when I realized that Japanese korroke (croquettes) were suddenly all the rage (at least when compared with a year ago when I was last here). But not only the usual kare (curry) flavored ones. In an unusual and tasty twist these were stuffed with kimchi. Hardly surprising you might think–pizza topped with kimchi has been around for ages–but I don't think I've seen the combination of potatoes and kimchi before.
I'm not generally a fan of such fusion cooking. Unless a cook knows what she or he is doing the dish is likely to fall flat. But in the past few years chefs, especially in the US, have become very good at concocting interesting fusions of "Asian" and "Western" flavors. For example, you can't have eaten out recently without seeing "miso butter" on the menu. So when I saw this fish stew recipe calling for doenjang (Korean miso) and mayonnaise I simply had to give it a try. I'm glad I did because the two work brilliantly together. And not just the miso and mayo. The recipe also involves cilantro (coriander) and parsnips! But somehow everything comes together beautifully at the end to make for a deeply satisfying dish.
This is, to be sure, a somewhat "cheffy" dish involving a number of "moving parts". But the individual components are easy to prepare and the final assembly takes only a few minutes. In fact, the hardest part for me was how to classify it! Where does one place a dish involving doenjang, mayonnaise, coriander, parsnips and dashi?! In the end I think "American" is what best describes it. Where else do cooks have both deep familiarity and appreciation for ingredients from different parts of the world, and the gumption to disregard tradition and try something completely new? I should note that the original recipe calls for red snapper fillets. I've used hake instead because I rather like its mild flavor and flaky texture, and because it is much more readily available to me.
Ingredient note: This recipe calls for a couple of ingredients you may not have on hand. One is Korean miso (doenjang) which, in contrast to "regular" Japanese miso, typically contains whole or crushed soy beans. It is also slightly sweeter. (I've written about doenjang in a previous post.) The soy beans add an interesting texture to the vinaigrette but if you don't want to buy doenjang, Japanese shiro (white) miso is a close approximation. The other is dashi, a stock made from simmering konbu (dried kelp), niboshi (dried sadines) and/or katsuo bushi (bonito flakes). While it is pretty easy to make, a good quality dashi powder is a perfectly adequate shortcut (and what most home cooks in Japan and Korea would use anyway).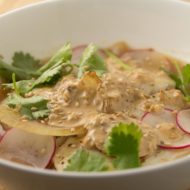 Hake stew with doenjang (Korean miso) vinaigrette
Ingredients:
2 Tbsp doenjang (Korean miso; see ingredient note)
2 Tbsp Kewpie mayonnaise
1" piece ginger, grated
Juice of ½ lemon
1 cup dashi (see ingredient note)
½ cup julienned parsnips
1 yellow onion cut into ½ cm-thick slices
1 Tbsp neutral oil such as canola
2 hake fillets
3-4 radishes, thinly sliced with a mandoline
2 Tbsp cilantro (coriander) leaves
½ tsp white sesame seeds
salt and freshly ground black pepper
Directions:
Stir the doenjang, mayo, ginger and lemon juice together in a small bowl. Adjust flavors and set aside.
Place the dashi and parsnips in a small saucepan and bring to a simmer. Cook until the parsnips begin to soften (they should still have a bite to them), about 5 minutes. Turn off the heat and set aside.
Heat a skillet over a medium flame and add the onion slices. Cook, turning over once in a while, until nicely browned. Add to the dashi.
Heat the oil in a nonstick skillet over a medium flame. Season the fillets with salt and pepper and fry until cooked through, about 2-3 minutes per side.
To assemble, bring the dashi back to a simmer. Place each fillet in a bowl and ladle the dashi over. Stir in a bit of the vinaigrette and garnish with the radishes, cilantro and sesame seeds.
Adapted from a recipe by Cathal Armstrong in Food & Wine magazine (link)