Kale and chickpea flour fritters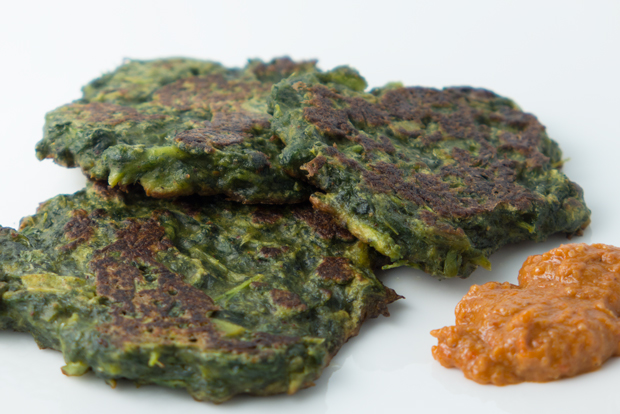 For a country mocked for its cuisine Britain has some of the best food TV I've seen. From Jamie Oliver's 15 Minute Meals to The Great British Bake-off, British cooking shows involve ingredients and techniques far more eclectic and challenging than is the norm on, say, Food Network. One of my favorite is Saturday Kitchen, where the host and resident chef James Martin whips up everything from puff pastry to vindaloo with envious ease while chatting with guest celebrities and chefs (a recent episode featured the famous Basque chef Elena Arzak, coincidentally also recently chronicled in the New York Times).
Today's recipe for kale fritters is one of many I've learnt from watching that show. Now, fritters (and savory pancakes) made of veggies – typically sliced onions or green chiles – in a chickpea (gram) flour batter (besan) are one of the most common snacks you'll find in Indian cuisine. (See this previous post for more information about gram flour which is available in Indian grocery stores.) They are usually deep fried. What sets this recipe apart is that the fritters are pan fried and feature kale, which goes remarkably well with the earthy gram flour. There's just enough batter to bind the kale together so that you end up with a fritter that is a beautiful green color, making for what is surely the ultimate kale delivery vehicle! I paired the fritters with Romesco sauce because, well, that is what I had on hand. It went brilliantly together, but tomato ketchup would be fine as well.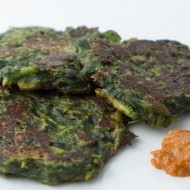 Kale and chickpea flour fritters
Yield: 6-7 fritters
Prep Time: 10 minutes
Cook Time: 15 minutes
Total Time: 25 minutes
Ingredients:
1 bag kale, washed and stemmed (about 4 packed cups)
½ cup gram flour
1 tsp salt
large pinch of red chile powder
pinch of turmeric
½ tsp cumin powder
½ cup milk
2 Tbsp olive oil
Romesco sauce or ketchup to serve
Directions:
Bring a large pot of well salted water to a boil and blanch the kale until tender, about 2-3 minutes. Drain and refresh under cold running water. Squeeze out as much water as you can and coarsely chop.
While the kale is cooking, sift the flour into a bowl and stir in the spices. Then pour in the milk a little at a time, mixing well. Add the kale and mix. Taste for seasonings and adjust as necessary.
In a large nonstick skillet heat about 1 Tbsp of oil over medium-high. Scoop about a ¼ cup of the batter in your palm and gently plonk it down on the pan, using your fingers to spread and press down until you have a 3"-4"-diameter fritter. Repeat, making sure the fritters are well-spaced apart. Fry for 3-4 minutes until the bottom is nicely browned, then flip over and cook another 2-3 minutes.
Serve hot with a dipping sauce of your choice.
Adapted from a recipe by Henry Dimbleby on BBC.