Midia dolma: Istanbul-style mussels stuffed with rice and pine nuts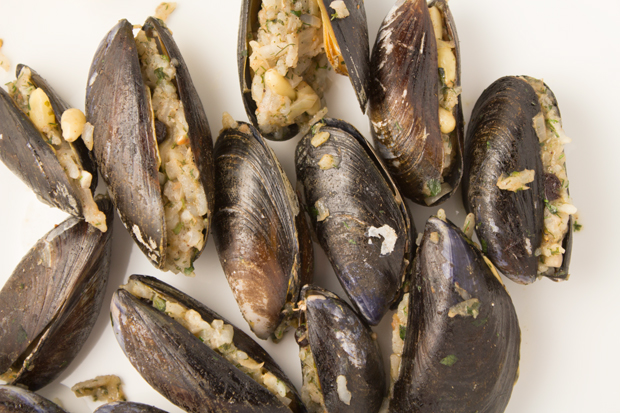 Living in the melting pot that is New York I thought I knew a little bit about Turkish food. But a recent trip to Istanbul laid bare my almost utter ignorance. Sure, I'd eaten manti and knew my iskender from adana kebap. But these well known dishes merely scratch the surface of a cuisine that is ancient and deep, with strong Central Asian, Mediterranean, Middle Eastern and European influences as befits a country bordering Asia and Europe. I learned all this thanks to Uğur Ildiz, my highly knowledgeable and friendly guide on a culinary walking tour I participated in. From morning to late afternoon we walked around both the European and Asian sides, stopping every few minutes at a roadside stall, restaurant or shop to sample local delicacies. It was one of the most enjoyable and informative experiences I've ever had and I highly recommend it if you're ever in Istanbul. Be warned though that the pace is brisk and unrelenting. And go with an empty stomach because at the end you'll be stuffed to the gills!
The tour started on the European side with a breakfast of simit–a pretzel-like bread with sesame seeds–and za'atar. I was familiar with "za'atar" as a dried, Middle Eastern spice mix containing thyme and oregano. But this was completely different: wild thyme leaves pickled in olive oil and lemon. Served with warm simit and hot tea, the local drink of choice, it was simple yet delicious. Next up was a traditional Turkish breakfast of eggs, olives and kaymak (a sort-of clotted cream made of water buffalo milk) with honey.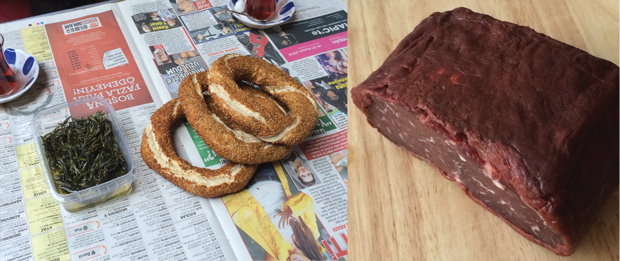 After a quick stop to sample a variety of baklava–the famed Turkish phyllo pastries–we hopped on a ferry to cross the Bosphorus to the Asian side. On the ferry, Uğur treated us to slices of pastrima, an Anatolian speciality of cured beef flavored with fenugreek. (Apparently the better known American pastrami traces it origin–via Eastern European Jewish immigrants–to the Turkish version.) As regular readers will know, I'm a massive fan of fenugreek and this totally blew my mind–and taste buds–away. Suffice to say my first question to Uğur was: where can I buy this stuff?!
No sooner had we alighted on the Asian continent that we stopped to snack on midia dolmas–literally stuffed mussels–one of Istanbul's signature street foods. (You might have encountered the word "dolma" in the context of stuffed vine leaves. I learned that "dolma" just means "stuffed".) And then on to a series of stores selling pickled vegetables, pastrima and mezzes, respectively.

After a pit stop for Turkish coffee, the onslaught continued with, in rapid succession, pide, lahmacun and tantuni, three variations on the theme of spicy meat on or rolled inside a flatbread. The last of these was washed down with a frothy and refreshing yogurt drink.


By this time I, and I suspect everyone else in the group, was feeling quite sated. But we weren't done yet. It was time to get adventurous, first with kokoreç, lamb intestine grilled on a spit and then stuffed into a sandwich; then kelle paca, a delicious soup made of various bits of a cow (feet and head are traditional); and finally çiğ köfte, "meatballs" typically made of raw beef or lamb but, as raw meat is no longer allowed to be sold in public eateries, here made of bulgar wheat. They were so tasty you could hardly tell the difference! And then just as we thought the tour had at last ended, dessert appeared in the form of künefe. This is a pastry made of semolina into which raw milk cheese is rolled in and the whole thing topped with syrup, kaymak and pistachios. What a way to end the tour–and day as all I was capable of doing was waddling back to the hotel!

So all in all a fantastic experience. And inspiring, too, because the first thing I made on returning home was the stuffed mussels. I couldn't find a definitive recipe, but this one by chefs Greg and Lucy Malouf (whose cookbook Arabesque I happen to have) looked promising. (The link cites Turquoise: A Chef's Travels in Turkey by the same authors as the source of the recipe.) I've followed it with a few adjustments (like the addition of nutmeg).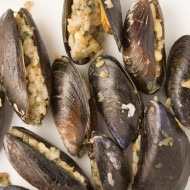 Yield: 4 servings
Prep Time: 30 minutes
Cook Time: 45 minutes
Total Time: 1 hour
Ingredients:
1 kg mussels (about 3 dozen), scrubbed and debearded
30 g currants (roughly ¼ cup)
150 g short or medium grain rice ( about ¾ cup)
¼ cup olive oil
2 small yellow onions, diced
3 cloves garlic, finely minced
60 g pine nuts (½ cup)
½ tsp cinnamon
½ tsp allspice
½ tsp nutmeg
½ tsp salt
2 small tomatoes, grated
½ cup dill, finely chopped
½ cup parsley, finely chopped, plus more for garnish
lemon to serve
Directions:
Soak currants in warm water for 10-15 mins. Drain and set aside.
Wash the rice in several changes of cold water to remove starch and then soak for 10 mins. Drain and set aside.
Heat the oil in a large saucepan over a medium-low flame and fry the pine nuts, onions, garlic and spices, about 8-10 minutes until the onions have nicely softened and the pine nuts start to brown.
While the onions are frying bring a large pot of water to a boil.
Soak the cleaned mussels in warm water to make it easier to pry them open when you stuff them.
Add the rice, tomato, currants and salt to the onion mixture. Stir and fry for another minute or so before adding enough boiling water to cover the rice. Stir, lower heat and cook, covered, until the water has been completely absorbed, about 10-15 mins. Make sure not to overcook the rice. It should be done by not mushy.
Transfer to a large bow and gently stir in the herbs. Set aside while you prepare the mussels.
This next bit is tedious. To steam the mussels you'll need a colander that can be placed on top of a larger saucepan with a lid. Ideally you want a colander small enough to be placed about ¾-th of the way inside the saucepan but large enough that it doesn't rest on the bottom. Of course if you have a proper steamer feel to use it. Holding a mussel over a bowl to catch drippings, insert a sharp knife into the long edge and cut through to detach the mussel from the shell (but not remove it). Then gently pry open about halfway and stuff with about 2 tablespoons of the rice. Press close and place in a colander. Repeat with the rest of the mussels.
Empty the bowl of drippings into the saucepan and add enough water so that you have 4-5 cm of liquid. Place the colander inside the saucepan making sure the bottom is above the water. Put a lid on top and bring to a boil over medium heat. Then lower to a simmer and steam until the mussels are cooked through, about 15 minutes.
Using tongs place the mussels on a large plate and let cool slightly. Garnish with parsley and serve with lemon wedges.