Persian herbed rice and fish stuffed with herbs, pomegranate molasses and walnuts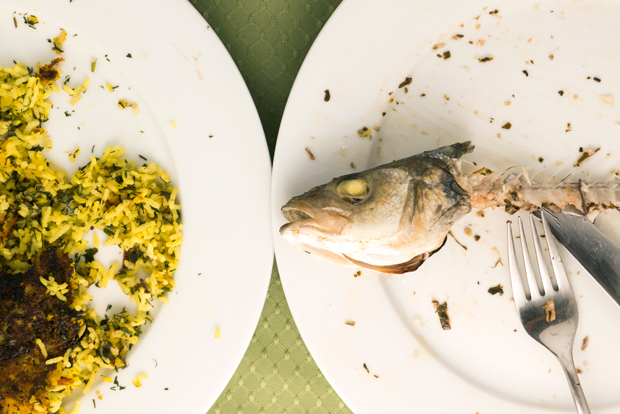 A wonderful recent article in the New York Times on the traditional dishes served on Persian/Iranian New Year's Day, called Nowruz and falling this Tuesday 21st March, reminded me of the first time I made Persian food. I thought there was a mistake in the recipe for ghormeh sabzi, sometimes called Iran's 'national dish', as the idea of adding entire bunches of parsley and cilantro (coriander) to a stew seemed rather extreme. After all, much as I love these herbs, I'm more used to thinking of them as garnishes rather than the main ingredient. But I've learnt since that first foray that in Persian cuisine herbs are treated like any other vegetable. Which is perhaps also why I simply had to try the recipes associated with the aforementioned article, especially the fish stuffed with herbs, pomegranate molasses and walnuts! Incidentally, Persian New Year is celebrated not just in Iran but through much of Central Asia, from Afghanistan to Uzbekistan, and even by the Parsis of the Indian Subcontinent.
I'll admit these aren't exactly weeknight dishes. That said, the most tedious and time-consuming bit is washing, drying and chopping the herbs (and there are a lot of them!); the actual cooking does not involve much effort. I'll also confess to not following the original recipes too closely or measuring anything out: when you're dealing with bunches what's an extra handful of dill here or there?! (If your herbs have tender stems just chops them up along with the leaves.) I also used sea bass instead of the trout the recipe calls for, although I suspect any white, mild-flavored fish with firm flesh will do. Butterflying the fish is a convenient way to prepare it for stuffing.
As for the rice, if you're feeling lazy just serve with plain basmati rice. But if you want to go the whole hog, getting a crispy bottom layer–called tahdig–is essential for authenticity (although, as this delightful article in soon-to-be-closed Lucky Peach Magazine argues, hardly unique to Persian cuisine). I'm not sure my version attained crispy-bottom perfection but it was a lot of fun to try (and very similar to making dum biriyani)!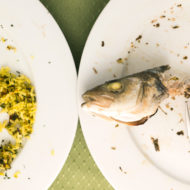 Persian herbed rice and fish stuffed with herbs, pomegranate molasses and walnuts
Yield: 2-4 servings
Prep Time: 45 min
Cook Time: 1 hour 15 min
Total Time: 2 hour
Ingredients:
Stuffed fish:
2 Tbsp olive oil
1 shallot, minced
½ large bunch parsley, finely chopped
½ large bunch cilantro (coriander), finely chopped
½ large bunch dill, finely chopped
small handful chives, finely diced
1 scallion, finely chopped
2 cloves garlic, minced
¼ cup walnuts, finely ground
zest of 1 orange, finely grated
juice of 1 small orange
juice of 1 lime
2 Tbsp pomegranate molasses
2 whole fish, butterflied or prepared any way you like for stuffing
Herbed rice with tahdig:
¾ cup basmati rice
3 Tbsp unsalted butter
1 medium leek, thinly sliced
large pinch of turmeric powder
½ large bunch finely chopped dill
½ large bunch finely chopped cilantro (coriander)
1 Tbsp Greek yogurt
2 Tbsp vegetable oil (canola/rapeseed)
Salt
Directions:
Stuffed fish:
Mix together the garlic, scallions, herbs and walnuts in a bowl. In another bowl whisk the zest and citrus juices. Set both aside.
In a large skillet, fry the shallots in half the oil over a medium flame until nicely softened. Add the rest of the oil and herb mixture and cook with a large pinch of salt until softened. Stir in 2 Tbsp of the juice mix and, once absorbed, the pomegranate molasses. Cook for another minute or two. Adjust flavors and set aside to cool.
Preheat oven to 475°F (245°C).
Lay the fish out and season on the inside and outside with salt. Drizzle some of the remaining juice on the inside and stuff with half the herb mixture. Tie the fish with kitchen twine and repeat with the other fish.
Place the fish in an oiled, rimmed baking sheet/roasting tin. Drizzle the remaining juice on top and roast in the oven until cooked through, about 15 minutes.
Serve hot with the herbed rice.
Herbed rice with tahdig:
Wash the rice well to remove the starch and soak for 30 minutes. Drain.
While the rice is soaking, in a large skillet heat 1 Tbsp of the butter over a medium flame and fry the leeks with a pinch of salt until nicely softened, about 6-7 minutes. Set aside.
Bring a pot of well-salted water to a boil. Add the turmeric and tip in the rice. Cook 3-4 minutes until al dente. (It is very important not to overcook the rice at this stage.)
In a large bowl gently mix the rice, leeks and herbs together. Season to taste with salt.
Heat the remaining butter and 1 Tbsp of the oil in a deep skillet over a medium flame. Take ¼ cup of the rice and mix it with the yogurt. Spread it out in a thin layer in the skillet. Heap the remaining rice on top and dig a few holes in it all the way to the bottom with the back of a spoon. This is to let the steam escape. Drizzle the rest of the oil around the edge. Cook for a few minutes before covering the skillet with a lid wrapped in a kitchen towel. Turn the heat down to low and cook, rotating the pan every once in a while for even cooking, until the rice is done, about 45 minutes.
When done, run a thin spatula around the edge and bottom to unstick the rice. Cover with a large plate and in one quick motion flip the pan over. If you're lucky (I wasn't!) the rice won't have stuck to the bottom and will come away nicely.