Phyllo pastry with fenugreek and potato filling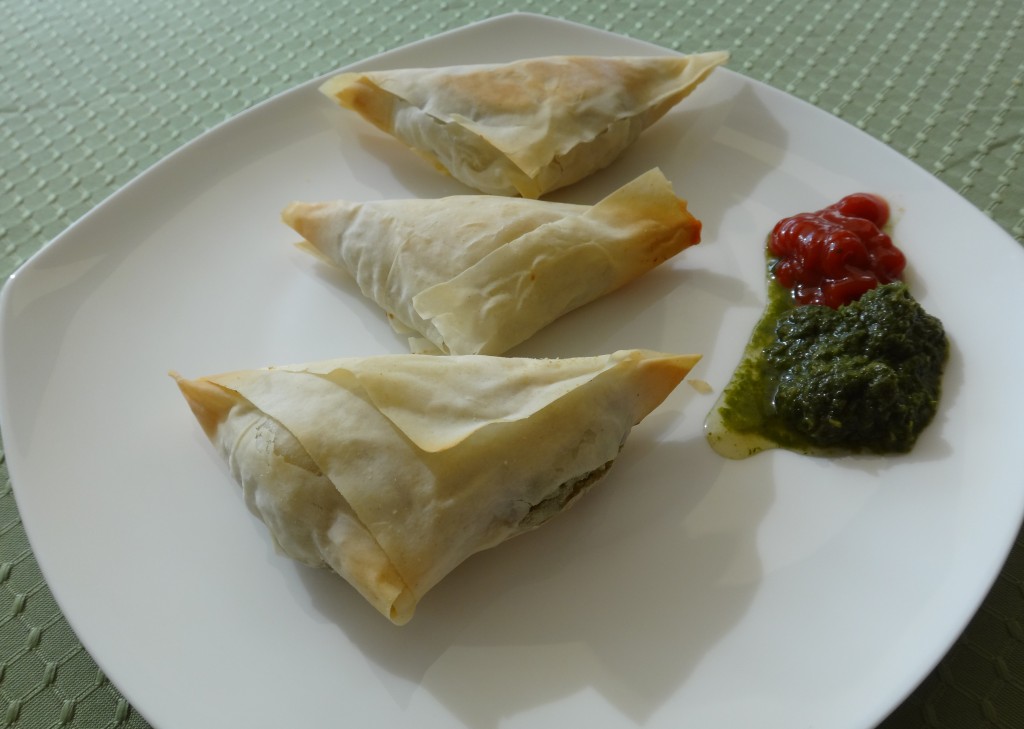 Several months ago I took a series of cooking classes at the Institute of Culinary Education (ICE) here in New York. Although billed as "recreational", these were intense, all-day affairs (each course lasting a week) meant to give you a flavor of what students in professional culinary school learn. The classes I took – Fine Cooking 1 and 2 and, subsequently, Techniques of Fish and Shellfish – covered everything from making sauce béarnaise to gutting a fish, and sauteing to making creme brulee. While every day we made several dishes, the point of these hands-on classes was to teach you fundamental techniques rather than specific recipes. Particularly impressive were the chef instructors who are not only highly knowledgeable but can also explain things well. This isn't easy. Imagine a class of 10 to 15 students (working in groups of 3 or 4), each with different levels of skill and motivation, running around like headless chickens in the presence of (very) sharp knives and hot stoves. It was chaos to say the least, although of a controlled variety. But, somehow, at the end of the day everything miraculously came together and we'd end up with a fabulous 6-7-course meal. I imagine a restaurant is a lot like that.
I'm sometimes asked what was the most useful thing I learned there. That's easy: mise en place. In non-chef speak that means having everything ready (spices measured out, veggies chopped, meat cut, etc) before you start cooking. Sounds too simple, and you'd think (as I used to) its more efficient to prep while cooking. But, no. This was a revelation. Cooking becomes so much easier and smoother when "everything [is] in place" (as the expression literally means). Of course, I learned lots of other things, such as being comfortable with cooking on high heat ("the pan must be smoking hot!" still rings in my ears). And working with phyllo pastry. Or just how much butter goes into, say, pie crust (you don't want to know!).
But, coming back to phyllo pastry, being generally clueless about baking, that was a particularly fun and instructive lesson. And ever since I've wanted to make these pastries at home. The question was what to put in them. Spinach and feta are common, but the possibilities are limitless. So in my first foray I decided to make something like a samosa, but with a twist: I added fenugreek (methi) leaves. If you've read my previous post on fenugreek you will know how much I like this bitter green vegetable. It also goes rather well with potatoes, the other main ingredient in the filling.
Ingredient note: I use frozen phyllo pastry sheets which you can buy at most grocery stores. You'll need to defrost according to the package instructions. If you haven't used this pastry before know that it dries out quickly. So keep it covered with a damp towel as you work.
Fillo pastry with fenugreek and potato filling
Cuisine:
Indian; Mediterranean
Prep time:
Cook time:
Total time:
Ingredients
Filling (makes enough for about 15 pastries):
2 medium potatoes, boiled and skinned
½ cup packed washed, dried, and chopped fenugreek leaves
½ small red onion, finely diced
2 cloves garlic, finely minced
1" piece ginger, finely minced
1-2 Thai chilies, finely minced
Juice of ½ lime
2 tsp garam masala
salt to taste
Pastry:
4 sheets phyllo pastry
olive oil
Instructions
Preheat oven to 375F.
Line a baking sheet with parchment paper and set aside.
Mash the potatoes and stir in all the other filling ingredients. Mix well and taste for salt.
Remove a pastry sheet from the box and lay it out on a flat surface. Cover the box with a wet towel while you work.
Using a sharp paring knife cut the sheet lengthwise into 4-5"-wide strips. With a brush lightly oil the surface to prevent drying.
To fill (and this is if you haven't used phyllo pastry before), imagine each strip is divided into squares and each square into two triangles. Place about 3-4 tbsp of filling on the upper "triangle" of the "square" closest to you. Flip the lower "triangle" over the filling. The "square" is now a "triangle". Using both hands, flip this "triangle" away from you, then flip to the left, then away from you, then to the right, and so on until you reach the end of the strip. Apply a bit of oil or water to the final bit of pastry to seal. Place the filled pastry on the lined baking sheet and cover with a wet towel.
Repeat until you've used up all the filling.
Bake in oven for 10-20 min until golden brown.
Serve with ketchup and green chutney.