Gujarati steamed vegetable dumplings (muthia)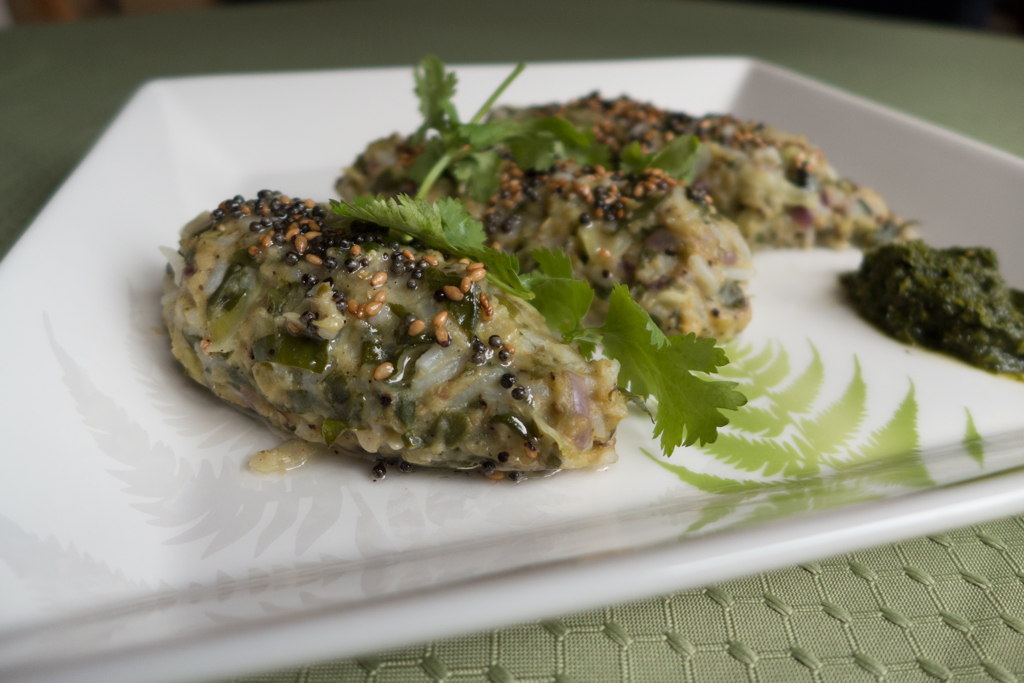 Growing up, a hot snack after school was a given. As I've previously mentioned, I grew up eating Gujarati food at home, and for Gujarati's snacking is serious business! Indeed, snacks occupy a separate and vast category of food – and specialized stores to sell them – known as farsan (ફરસાણ). Not infrequently, these are made of chickpea flour and deep fried. But there are plenty of other, healthier, kinds made of lentils and rice that are steamed or baked. Well known farsan include, dhokla, patra, and samosa. In fact, farsan are so diverse that one could have a blog just about them and calling farsan snacks doesn't quite do them justice.
Take today's recipe for example. While not exactly a PB&J in terms of simplicity, these steamed vegetable dumplings are substantial and healthy enough to be served as part of any meal – or all by themselves! And despite the long(ish) ingredient list they are surprisingly easy to make. Muthia (મુઠિયા), as these dumplings are known, are made of a mixture of different vegetables and flours. Ground coriander seeds and black pepper are the main spices. Once steamed, you can either finish them off with hot tempering oil spiked with mustard and sesame seeds or fry them until a nice golden brown.
Ingredient note: This recipe calls for a number of ingredients that you may not have lying around in your pantry. But all can be readily found at an Indian grocery store. The list included two vegetables that are widely used in Gujarati food. I've already mentioned methi, or fenugreek leaves, in a previous post. The other is bottle gourd, known as dudhi (દુધી) in Gujarati. (Think butternut squash, but skinnier and light green in color.) You will also need finely ground semolina flour (known as rawa) and chickpea flour (known as gram flour or besan). Note that chickpea flour is actually made from chana dal, a split and hulled form of a rather different variety of chickpea the garbanzo kind more common in the West.
Gujarati steamed vegetable dumplings (muthia)
Prep time:
Cook time:
Total time:
Ingredients
2 tbsp coriander seeds
1 tbsp whole black pepper
⅓ cup chickpea flour
⅓ cup semolina flour (rawa)
⅓ cup whole wheat flour
1 small red onion, diced
½ cup packed spinach, chopped
¾ cup packed fenugreek leaves (methi), chopped
¾ cup packed shredded cabbage
½ cup coarsely grated bottle gourd (dudhi)
⅓ cup day-old cooked basmati rice
2" piece ginger, grated
1 Thai chilli, finely minced
2 tsp salt
1 tsp sugar
½ tsp asafoetida powder (hing)
2 tbsp plain yogurt
2 tbsp lime juice (1 lime)
Cilantro for garnish
Green cilantro chutney for serving
Tempering oil:
2 tbsp canola oil
1 tsp mustard seeds
1 tsp sesame seeds
Instructions
Grind the coriander seeds and peppercorns in a spice grinder or mortar and pestle.
In a large bowl, mix together the three flours. Add the ground spices and the next several ingredients up to and including the asafoetida. Mix well. Then add the yogurt and lime and mix with your hands as if you were making a dough. Taste and adjust flavors, adding more flour if the mix is too soft. Set aside.
Get the steamer ready. Lightly oil the steamer tray (I prefer perforated ones). Shape the dumplings into 4"- to 5"-long cylinders and place in the trays spaced well apart. Steam for 12-15 minutes until cooked through and firm to the touch.
While the dumplings steam, heat the oil in a small skillet over medium high. Add the mustard and sesame seeds and fry, shaking the pan frequently, until the mustard seeds begin to pop. Turn off heat and set aside.
Plate the steamed dumplings and pour the tempering oil over them. Alternatively (and this works quite well when reheating), fry the steamed dumplings in a tablespoon or so of oil with the mustard and sesame seeds until golden brown.
Garnish with cilantro and serve with green chutney.